6 snacks to skip on your next road trip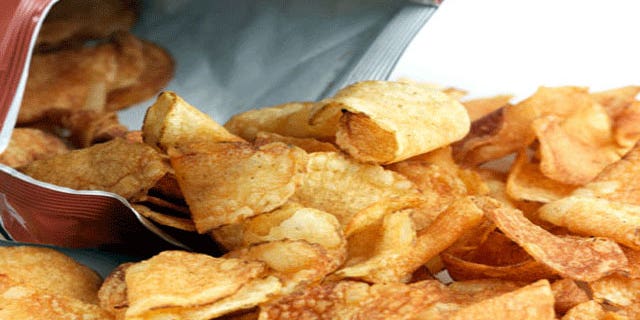 NEWYou can now listen to Fox News articles!
Millions of Americans will take to the road to get that last vacation in as summer winds down, but eating healthy in the car is not easy. Although it's best not to nosh in the car, after long hours on the open road, a gas station stop can all too easily turn into a junk-food buffet. Unfortunately, those tempting treats won't keep your personal fuel tank running well for very long. The good news is in addition to the chips and cookies, you can find surprisingly healthy options at many convenience stores. Here are six of the best and worst foods for your next pit stop.
Worst Bet: Candy
If you're cravings something sweet, your candy choices at the convenience store are endless. Unfortunately, these sugar-loaded treats will provide a quick high and quick low and do nothing to appease your appetite or provide you with any level of nutrition. A regular size candy bar provides 24-31 grams of added sugar – according to the American Heart Association, that's about an entire day's worth of added sugar for a healthy adult, so don't think about drinking it with a soda.
Best Bet: Bananas
Most convenience stores now offer fresh fruit, which can be a healthier alternative to candy for a sweet tooth. However, if the apple at the checkout counter seems difficult to wash, and the orange seems messy to peel, go for a banana. Bananas are packed in their own skin for clean fingers and easy clean up, and travel well for days. One medium banana provides 105 calories and is an excellent source of vitamin C, fiber and potassium.
Worst Bet: Baked Goods
Donuts, cookies, muffin tops … It's all too easy to turn into a nutritional ding-dong when you're gassing up the car. As with the plethora of candy options, baked goods are loaded with added sugar, unhealthy fats and excess calories while offering no real nutrition. For example, one apple crumb donut provides 490 calories and 18 grams of fat. While the calorie amount is more appropriate for a meal instead of a snack, the nutritional profile is crummy for either.
Best Bet: Hard-boiled Eggs
It might seem odd, but many convenience stores now sell hard-boiled eggs, sometimes sold in packs of two with salt and pepper. Eggs are packed with a number of nutrients for just 70 calories each. One egg has 13 essential vitamins and minerals, antioxidants and high-quality protein for staying power. Plus, research shows that egg's nutrients can help with weight management, muscle strength, and brain function. Now, what was that donut doing for you again?
Worst Bet: Chips
Steer clear of typical salty snacks at the convenience store. Potato chips and cheesy tortilla chips may taste good for a moment, but they're gone all too fast, and before you know it, you've scarfed down a lot of calories without much nutrition.
Best Bet: Pistachios
Instead of chips, get your crunch on with a Wonderful Pistachio snack pack, available at most convenience stores. They're high quality, convenient and three times the protein and fiber compared to the chips – all this on-the-go while still satisfying that craving for a savory crunch. Better yet, you get 49 nuts per serving, and the shells help slow you down.
Worst Bet: Hotdog
You may be choosing a hotdog in the hopes of getting some protein or to appease a craving for something savory. The two thumbs down on a convenience store dog comes from the preservatives and curing agents that are loaded with sodium. Some of the worst preservatives in hotdogs are the nitrates and nitrites that have been linked to cancer.
Best Bet: STRONG & KIND Bar
While one hotdog provides about 6 grams of protein, a savory STRONG & KIND bar provides 10 grams of protein. Because not all protein is created equal, the bars provide natural protein from whole almonds, seeds, and pea protein to provide all nine essential amino acids, making it a high-quality protein food. Available in most convenience stores, the bars come in five bold flavors like Roasted Jalapeno and Honey Smoked BBQ – and they're gluten-free.
Worst Bet: Slushy
An 8-ounce fruit-flavored slushy can run you 220 calories and packs in 47 grams of added sugar. That's more added sugar than the American Heart Association recommends a person consume in an entire day. Plus, you might need to multiply it if you get a 16-ounce or 20-ounce drink.
Best Bet: Fresh fruit cup
Rather than an artificially fruit-flavored slushy, go for real fruit. In addition to offering fresh whole fruit, many convenience stores now offer juicy fruit cups made from pre-cut melon and grapes. Not only are they low in calories, they're a good source of fiber and antioxidants. To help you meet your daily produce quota, an 8-ounce fruit cup provides about two servings of fruit. If fresh cut fruit is not available, look for fruit packed in water or extra-light syrup.
Worst Bet: Cheese Puffs
What are cheese puffs? They don't grow on trees or come from cows. They do turn your fingers neon orange long after the bag is empty. In fact, it's hard to care about your neon orange fingers until the bag is empty. When looking at the average cheese puff ingredient list, the first ingredient is enriched corn meal, followed by vegetable oil and a slew of artificial flavorings, including monosodium glutamate (or MSG). There are better options at the convenience store for your cheese craving, such as cheese.
Best Bet: String Cheese
Instead of the "cheese-flavored" snacks, go for a string cheese. It provides calcium and protein for staying power, all for about 80 calories each. In fact, one string cheese provides 20 percent of your daily calcium needs and 7 grams of protein. For a balanced snack, pair one with a bag of baby carrots or a fresh fruit cup.
Relationship disclosure: Patricia Bannan has worked with pistachios and KIND bar to help people make healthy snack choices.