168 cases of Monkey bread mix recalled due to salmonella risk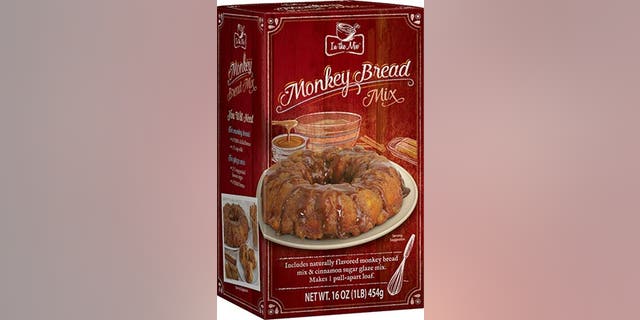 Brand Castle LLC has voluntarily recalled some packages of its In The Mix® Monkey Bread Mix because the product's buttermilk powder ingredient may be contaminated with salmonella, the Bedford Heights, Ohio, company announced this week. Valley Milk Products LLC supplied the possibly contaminated ingredient, which the Food and Drug Administration (FDA) investigation identified in the supplier's facility.
The monkey bread mix has a UPC code of 8-44527-03278-2, and is packaged in a 16-ounce box with a sticker on the back of the package indicating the lot number "29JUN18BC6202" and a best buy date of June 29, 2018.
According to the FDA, the recalled product was sold to a single retailer in the following states: Alabama, Arkansas, Arizona, California, Colorado, Delaware, Florida, Georgia, Iowa, Indiana, Illinois, Indiana, Kansas, Kentucky, Louisiana, Massachusetts, Maryland, Michigan, Minnesota, Missouri, Mississippi, North Carolina, North Dakota, Nebraska, New Jersey, New Mexico, Nevada, New York, Ohio, Oklahoma, Oregon, Pennsylvania, South Carolina, Tennessee, Texas, Utah, Virginia, Washington and Wisconsin.
The recall affects 168 cases, or 1,008 units, of product.
Food Safety News reported that the recall is one of at least five other products recalled due to the potentially contaminated buttermilk powder ingredient. Those products include Great Value macaroni and cheese and Publix brand pancake mix.
While healthy people exposed to salmonella typically suffer short-term symptoms such as fever, bloody diarrhea and vomiting, in rare cases, the bacteria may enter the bloodstream and cause arterial infections, arthritis and endocarditis. Young, elderly and immunosuppressed people are at a greater risk of serious illness.
The FDA has not received any reports of illness linked to the recalled product.
Brand Castle LLC advised consumers not to use it and throw away the product immediately. Consumers can also return the recalled product to their place of purchase for a full refund.