'Wicked' Cupcake Flies High After TSA Seizure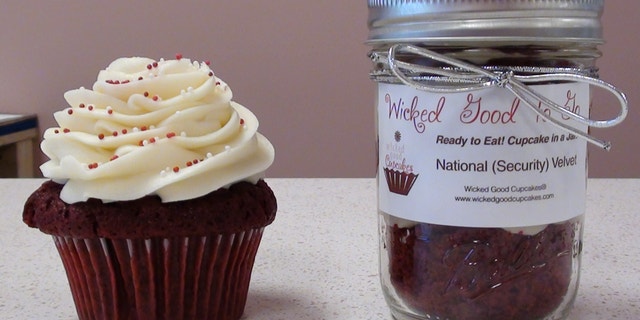 Cupcake sales at a small Massachusetts bakery are reaching new heights after the Transportation Security Administration last month confiscated one of their tasty treats for being a terrorist threat.
Rebecca Hains, 35, was traveling to Boston from Las Vegas in late December when TSA security officials eyed the cupcake -- layers of red velvet cake and filling, topped with frosting, packed in a jar.
The TSA objected to the thickness of the icing on the cupcake, saying it exceeding the 3-ounce limit for airline carry-on luggage. The hummus sandwiches and bag of cherry tomatoes that Hains -- who teaches advertising and media studies at Salem State University - was carrying didn't even get a second glance.
Hains had already made it through security once with the cupcakes when she traveled from Boston's Logan International Airport to Las Vegas but was stopped traveling back to Boston with the uneaten treats.
Later, in its blog entitled "Cupcakegate," the TSA stood by its decision saying that the cupcake was packed in a jar filled with icing, which is considered a gel under a policy designed to secure travellers from terrorists seeking to evade detection by using explosives made of plastics, liquids or gels. It also reminded readers that there are very real examples of potential terrorists packing explosives in common, everyday things.
Wicked Good Cupcakes co-owner Tracey Noonan, responsible for the delectable, told the Boston Globe: "I think they thought it was a bomb.''
But right now the only thing exploding are sales for the cupcake, which until recently was called National Velvet. The bakery has since renamed it National (Security) Velvet.
When asked about sales, Brian Vilagie, manager of Wicked Good simply said, "They're huge."
Vilagie told FoxNews.com that they've received almost 1,000 orders in the past week for their cupcakes and have been fielding calls from the media and morning talk shows. One woman from New York, he said, wants to "wholesale them in her store."
But he insisted the increased interest is not due to the hype, although it is a factor. He said they taste great and the controversial packaging, which raised TSA alarm bells, is "really nice." He also said that there are no plans to change the packaging at this time.
Wicked Good Cupcakes says they've been in touch with the TSA. And while Vilagie says he understands that the TSA was just doing its job, he added it needs to be more consistent, noting Hains passed through security once with the cupcakes without being stopped.
But here's a suggestion: might things be a bit sweeter if Wicked Good sent TSA a sample? Not only would they know what they're looking for the next time someone comes through security with National (Security) Velvet, they can taste how good they are.
The Associated Press contributed to this story.