Who really invented the soy sauce packet?
Most people don't give much thought to the little plastic soy sauce packets tossed in Chinese carry-out.
But the history behind the condiment's packaging has a surprising twist thanks to a shrewd New York City businessman who helped popularize soy sauce and made the country's third most popular condiment, reports from The Atlantic.
The first design for soy sauce packets appeared in 1955 when Harold M. Ross and Yale Kaplan filed a U.S. patent for a single-serving "dispensing container for liquids" meant to contain "sauce or syrup" that could be extracted by squeezing. This original container had a feature that would allow users to stop the flow of liquid by releasing pressure on the packet—obviously something a bit more advanced than the somewhat flimsy, unstoppable soy sauce packets of today.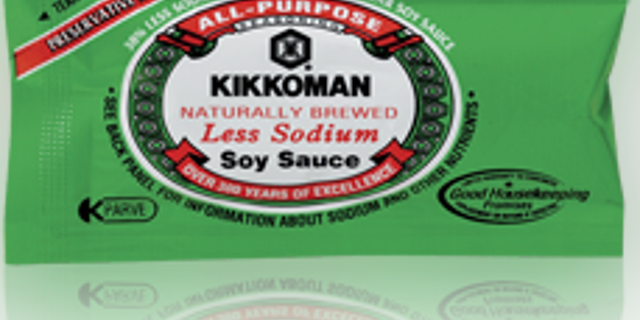 But it was Howard Epstein, a businessman from the Bronx who founded food packaging company Kari-Out in 1964, who's largely credited with popularizing the plastic packet we know today.  Epstein took the flimsy plastic packaging his company was making for freezer pops and decided to try it out with soy sauce.  But when he approached Chinese food restaurant owners, they were skeptical.
"No one trusted me because it was the old times. The Chinese ran the business," Epstein told The Atlantic.
But his luck changed when airlines began purchasing Epstein's packaged soy sauce to accompany in-flight meals. The timing was perfect. It was a time when air travel was becoming more affordable, and the proliferation of transatlantic and trans-Pacific travel meant more visitors were coming to the U.S.—including those from China.
"People were leaving China and coming into the United States to open a restaurant and cook. The industry was booming," Epstein recalls.
Epstein continued to grow his business and today estimates Kari-Out controls a 50-percent-share of the soy sauce packet market.
Today soy sauce packets have evolved beyond the rectangular packet. There's the Dip & Squeeze plastic tub—most often used for ketchup but can double as a standalone dunking station or squeezed from the top. Texan Gary Murphy recently invented the Little Soya fish container. With a green screw cap and molded plastic base, the fish-shaped container allows  users to save sauce for later.  He also fills his packets with a gluten-free soy sauce that's on trend with health conscious eaters today.
The new design is so innovative that once NASA got wind of it, they started using it for astronauts' food.
Something to chew on  when you try and figure out what to do with all those tiny plastic packets that pile up in your refrigerator.
cousin.
Little Soya