Veteran sending hundreds of pizzas to deployed troops for Super Bowl Sunday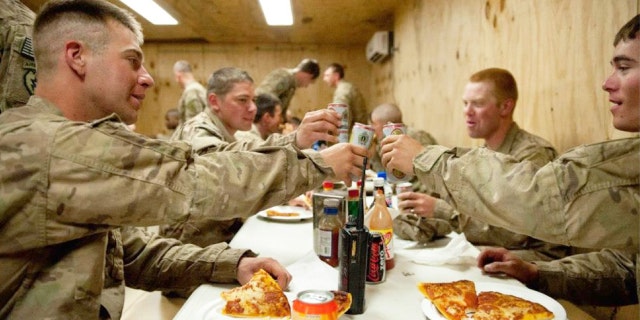 Retired Air Force Master Sgt. Mark Evans dedicates his life to sending Chicago deep dish pizzas to soldiers deployed in the Middle East.
Evans, who is based in the Chicago suburbs, is the force behind the non-profit Pizzas4Patriots, now in its ninth year. The group offers help to service members, veterans, and first responders by providing "America's favorite food while they're far away from home."
"There's no better feeling than paying it forward," Evans told Fox News.
Evans explains that the idea started on July 4 eight years ago. He was eating pizza with his son while watching the news.
"My son looked at the soldiers in Iraq on TV and he asked me what they were eating. I told him Meals Ready to Eat (MREs)-- not pizza," Evans recalled. "He asked me if we could send them some pizzas."
COFFEE COMPANY TAKES ON STARBUCKS' REFUGEE PLAN, PLEDGES TO HIRE 10,000 VETERANS
Evans, who made some important friends from his years in the military, decided to reach out to General David Petraeus. In an email, Evans explained to Petraeus that he wanted to send 2,000 pizzas to Iraq. From there, a cheesy partnership was born.
Evans has been sending pizzas to the troops every Independence Day and Super Bowl Sunday since. The pies are shipped half-baked and the troops come up with creative ways to reheat the food-- some even using the heat from Humvee engine. Since 2008, Evans says almost 170,000 pizzas have been shipped across the Atlantic.
"I just like to see smiles on soldier's faces and the stories I hear are incredible," he says.
This year, eight hundred more Pizzeria Uno pies are headed to Bagram Air Force Base in Afghanistan for Sunday's big matchup between the New England Patriots and the Atlanta Falcons.
Thanks to donations that Evans raises throughout the year, the pizzas are flown to the troops via private helicopters.
FOR THE LATEST FOOD FEATURES FOLLOW FOX LIFESTYLE ON FACEBOOK
"I raise money. I go on TV and beg for money. My wife calls me the show dog or the talker," Evans says. Evans also works at AT&T, which sponsors his nonprofit.
Additionally, the group provides pizzas to veteran's hospitals around the country.
"Some people do incredible things. Look at Trump. Look at Neil Armstrong. No one thought they could do what they said they were going to do," Evans says.
He added,"We're very blessed."