Top 10 steakhouses in New York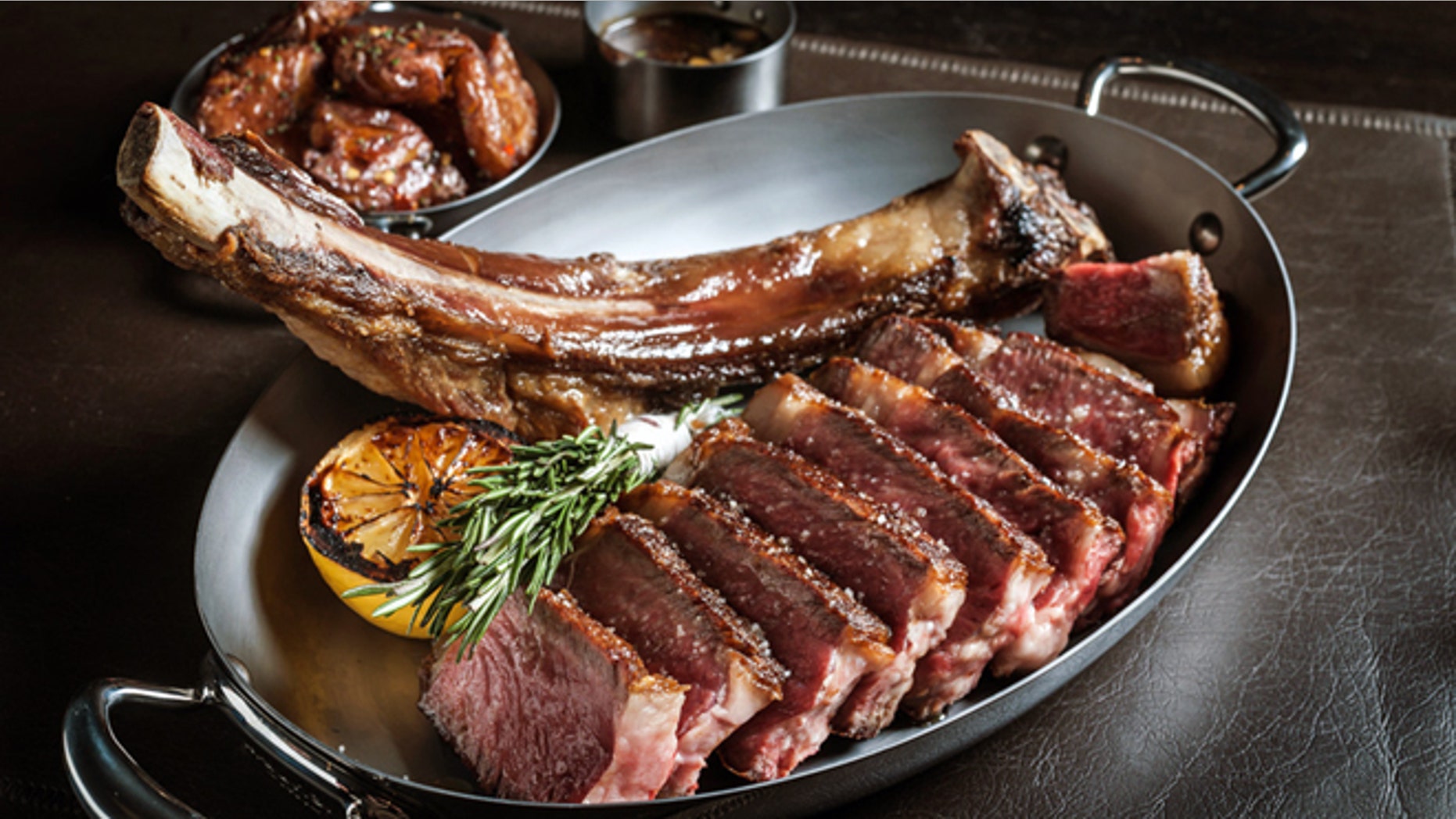 Some tourists visit New York City to go window shopping and see the latest fashions hanging in the artistic window displays. But as the Super Bowl approaches, some hungry visitors will prefer to see dry-aging filets from Kansas City hanging in steakhouse window displays.
But knowing where to go in the Big Apple can get confusing.  Here's a list of the best of the best -- from a Brooklyn icon to a steakhouse within a gentlemen's club. Talk about a strip steak!
Costata
206 Spring St.
New York, NY 10012
Chef Michael White, who has amassed a small empire of Italian establishments in New York, goes steak-centric at this SoHo restaurant. The namesake Costata is a 44-ounce tomahawk rib-eye for two that arrives looking like it was carved from a brontosaurus with a huge curvy bone arched on the plate.
Del Frisco's Double Eagle Steak House
1221 Avenue of the Americas
New York, NY 10020
This Dallas import feels like a longtime New York establishment. The interior is usually packed with suits and the staff seems to manage it all quite gracefully. The beef at Del Frisco's is served nicely charred on the outside and rare within, and the kitchen makes an effort to jazz up regular sides of creamed spinach with bacon and some diverse seasonings.
Maloney & Porcelli
37 E. 50th St.
New York, NY 10022
Maloney & Porcelli is the kind of place many lawyers and other suits seem to love. There's a big bar and the menu is dedicated to classic American cuisine from the '30s through the millennium, which seems to mean gargantuan portions of hearty fare. Start with oysters and then order an aged steak; it comes nicely cooked --- and naked (don't forget to order potatoes and vegetables).
Nick & Stef's Steakhouse
Madison Square Garden
9 Pennsylvania Plaza
New York, NY 10001
Über-chef Joachim Splichal created this steakhouse in honor of his twin sons, Nick and Stef. The walls feature photographs of notable Madison Square Garden events, including images of Muhammad Ali, Joe Louis and Bob Dylan. In addition to a porterhouse for two and other beefy choices, the menu expands on the traditional steakhouse repertoire.
Peter Luger
178 Broadway
Brooklyn, NY 11211
For over a century, carnivores have been traversing the Williamsburg Bridge to the Brooklyn side to sample consistently excellent steaks at Peter Luger. Established in 1887, the steakhouse delivers plus-size porterhouse steaks prepared in a method that has not changed since the first day they fired up the grill.
Quality Meats
57 W. 58th St.
New York, NY
Merge the know-how of the Smith & Wollensky empire with an interior designed by NYC firm AvroKO, and you have a recipe for one of the better steakhouses in Midtown: Quality Meats. The menu is cheekily traditional, including a selection of fresh oysters alongside velvety crab cakes and Caesar salad. Steaks run the gamut from a trio of filets to the double rib steak for two.
Robert's Steakhouse
536 W. 28th St.
New York, NY 10001
Steakhouses in strip clubs have officially become de rigueur. At least in Manhattan. Robert's Steakhouse at Scores is sectioned off from the club, but there are still views of the stage action. The action on the plate, however, is a formidable opponent. The porterhouse for two is the way to go, a massive bone-in chunk that could actually feed three carnivores.
Sparks Steak House
210 E. 46th St.
New York, NY 10017
At Sparks Steak House, the tender Prime sirloin is the house specialty, but you can also try the juicy filet mignon, the lamb chops or the charred veal chop. Then there are the absolutely gargantuan lobsters. Be sure to start with a classic shrimp cocktail, some fresh oysters on the half shell, or a wedge of buffalo mozzarella with a thick slice of tomato.
Uncle Jack's Steakhouse
440 Ninth Ave.
New York, NY 10001
At Uncle Jack's Steakhouse, the masterpiece is the 48-ounce porterhouse for two, sliced French-style and served basking in its own jus, which results in a tender cut, nicely grilled, with a flavor of beef and hickory.
Vic & Anthony's Steakhouse
233 Park Ave. S.
New York, NY 10003
A national steakhouse mini-chain, Vic & Anthony's is housed in a spacious room with a bar up front and a quiet dining area in the back. The bone-in rib-eye and filet mignon are nicely done: juicy and tender enough that a knife sinks right through.

More from Gayot
Full Restaurant Reviews of the Top 10 NYC Steakhouses
New York City's Best Restaurants