The Chicken Big Mac: McDonald's Australia adds secret item to menu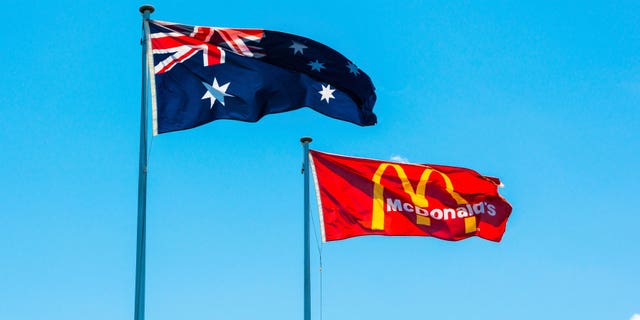 As if the beaches, the surfing and the scenic Sydney waterfront weren't enough reason to visit Australia, the commonwealth's latest McDonald's sandwich is sure bring in fast food lovers from around the world.
McDonald's locations throughout Australia have officially added the Chicken Big Mac — one of their oft-requested "secret items" — to the restaurants' official menus for a limited time, reports News.com.au.
"The iconic Big Mac and the McChicken are among our most popular burgers, so it made sense to mix up these two classics and give our customers a new and exciting product to try — the Chicken Big Mac," said Jenni Dill, CTO of McDonald's Australia.
MCDONALD'S HONG KONG ROLLS OUT OREO-ONLY MENU
McDonald's new Chicken Big Mac offering is basically a Big Mac made with two breaded chicken patties in place of beef. All other components of the sandwich remain identical to that of a Big Mac (i.e., special sauce, lettuce, cheese, pickles, a sesame seed bun), except the new packaging, which boasts the phrase, "Same taste, but different."
Before May 31, when the Chicken Big Mac officially debuted Down Under, chicken sandwich lovers were forced to purchase two McChicken sandwiches and cobble together their own Chicken Big Macs, or custom-order a Big Mac made with McChicken patties. Occurrences were actually frequent enough that Australia's News.com.au referred to these makeshift sandwiches as "regularly requested" items.
FOLLOW US ON FACEBOOK FOR MORE FOX LIFESTYLE NEWS
Indeed, Twitter contains evidence of foodies from Australia and the U.S. who have dabbled in hacking their Macs with chicken. Sometimes while intoxicated:
In addition to the Chicken Big Mac, McDonald's Australia is bringing Shaker Fries back to the menu. Originally introduced by McDonald's Australia in 2011, Shaker Fries include an order of McDonald's french fries and a packet of powdered cheeseburger-flavored seasoning, which can then be dumped into a paper sack (provided by Mickey D's) and shaken together to impart a cheeseburger-y flavor to the fries. Already, McDonald's consumers across Australia are ordering both the Shaker Fries and Chicken Big Mac while the promotion lasts:
AUSTRALIAN RESTAURANTS CAN NOW BLACKLIST NO-SHOW PATRONS
McDonald's Australia will be offering its Chicken Big Mac and Shaker Fries through July 18. According to Mashable, however, McDonald's customers in Qatar, the UAE, the Netherlands and Egypt have already been able to order Chicken Big Macs at their local locations.