Shaquille O'Neal masters the art of the virtual dunk
Shaquille O'Neal has a serious sweet tooth.
The basketball superstar-turned-Krispy Kreme entrepreneur isn't just dunking doughnuts in coffee—he's dunking milk's favorite cookie, over and over, but with one catch—he's not even using his hands.
"It's 2017. We live in a world that's driven by technology and I want people to see innovative ways that you can hands-free dunk," Shaq told Fox News at Oreo's first Dunk Challenge in New York City's premiere food emporium Chelsea Market. Chelsea Market just happens to be the birthplace of the world's most ubiquitous sandwich cookie-- the Oreo Biscuit was first created by the National Biscuit Company in 1912.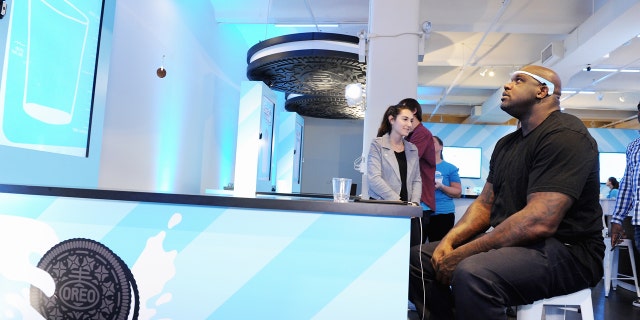 Utilizing a Muse headband, Shaq challenged dozens of fans to a virtual dunking competition. Scientists say the software behind this revolutionary headpiece can measure the wearer's brain activity and, when it senses that the mental activity is focused, it triggers a custom-built, hands-free motorized track to move the Oreo cookie toward the user and finally drop it into a glass of cold milk.
The new Oreo spokesman says he's been eating Oreos since 1972—the year he was born—but says he enjoyed challenging fans to different type of dunking competition.
"For me, it's awesome 'cause I'm a master at it," the basketball superstar explained. "You see a floating cookie and you just say 'come to me, cookie' about a thousand times inside your head and before you know it, it's inside the milk."
Oreos' Feb. 8 Dunk Challenge with Shaq was just the first in a series of brand activations that will feature celebrities like Christina Aguilera and one of Brazil's biggest soccer stars, Neymar da Silva Santo, Jr.
FOR THE LATEST FOOD FEATURES FOLLOW FOX LIFESTYLE ON FACEBOOK 
If you can't make it to one of these events in person, Oreo is inviting cookie lovers to share their best dunks on Twitter and Instagram using #OREODunkSweepstakes for the chance to win a "Wonderfilled VIP dunking experience" that includes a trip New York or Los Angeles, tickets to a celebrity dunk event, a customized Oreo gift bag and $2,000 in spending money.
So what's the secret behind a winning dunk? Shaq gave us the scoop to perfecting his masterful technique-- on and off the court.
"Well, the secret for me was after the dunk, I want people to feel intimidated," the National Basketball Hall of Famer told Fox News. "When it comes to oreo, I want people to know you will be demolished, in one or two bites."
So give it your best shot. The Oreo Dunk Sweepstakes ends April 30.