'Seinfeld' writer wants compensation from McDonald's for muffin top idea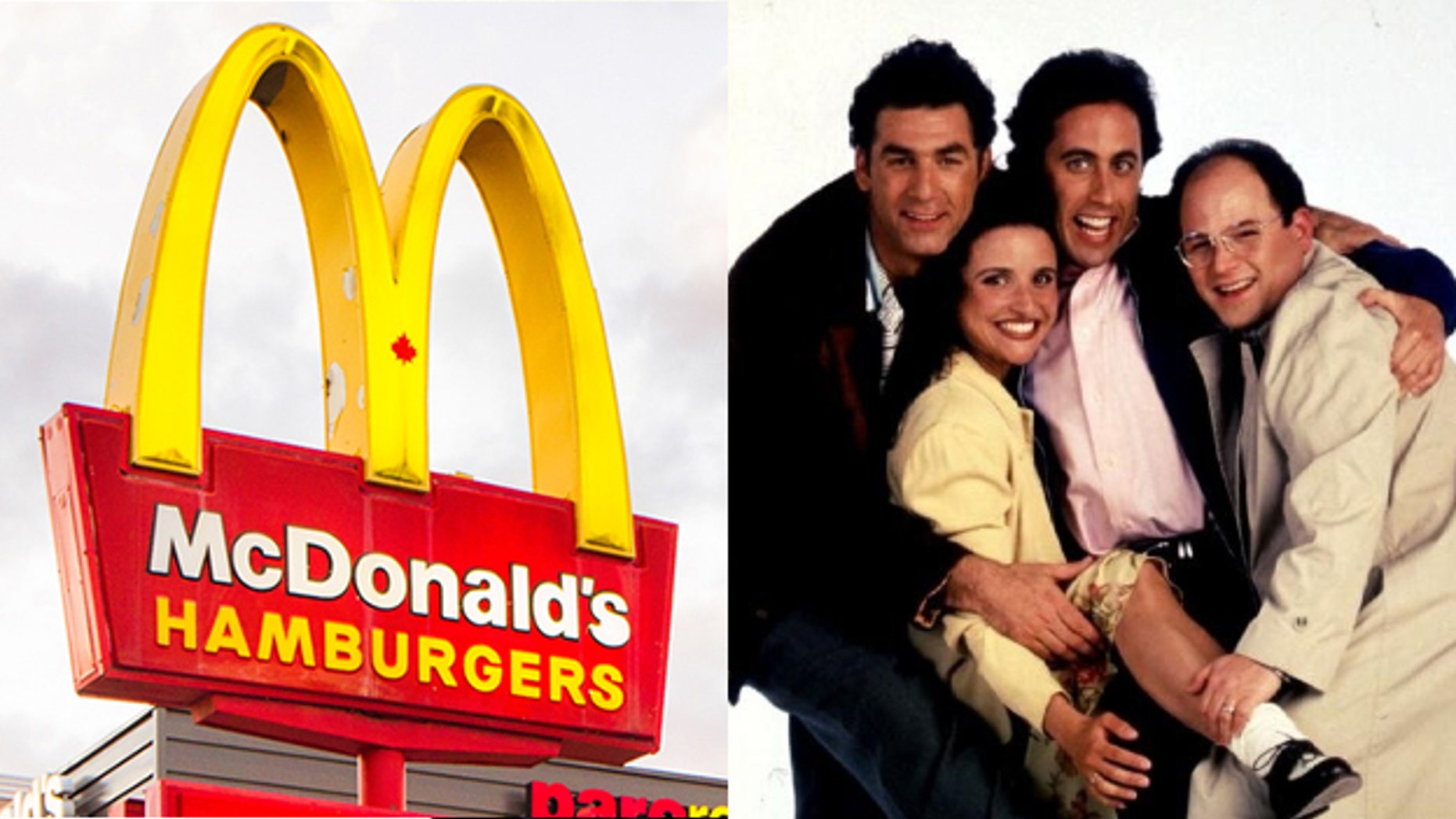 In the same way Elaine was outraged at Mr. Lippman for stealing her "muffin top" idea to turn a profit, so too is a former "Seinfeld" writer who believes McDonald's is cashing in on his idea.
Spike Feresten — the man who wrote the "Seinfeld" episode in which Elaine and her former boss go into business selling muffin tops — has told TMZ he wants the company to cough up "a billion dollars" after they announced plans to begin serving "muffin toppers" as part of their new McCafé offerings.
Failing a billion-dollar payout, Feresten also said he'd gladly allow McDonald's to sponsor his podcast instead.
MCDONALD'S TO START OFFERING MUFFIN TOPS, LIKE THAT ONE EPISODE OF 'SEINFELD'
"What took so long?" Feresten jokingly asks of McDonald's in a video obtained TMZ. "This episode was written 21 years ago."
The writer and podcast host went on to say that the first thing he thought about, after seeing McDonald's had announced its new "muffin toppers," was "the money."
"What I thought about was the money. The money I'm going to make from this multinational corporation. That's what I thought about."
THIS STATE HAS THE MOST FAST FOOD RESTAURANTS PER CAPITA, STUDY FINDS
He then outlined his demands, including his desire for McDonald's to use the same slogan Elaine's old boss, Mr. Lippman, had used for his muffin-top shop: "Top of the muffin TO YOU!" complete with an exclamation point.
"That's the most important part," Feresten said.
"Secondly, you're going to have to pay me a billion dollars," he continued. "But I'm going to use that money very wisely; I'm going to buy a bigger car collection than Jerry Seinfeld and make him feel bad."
"And I think, if [those] aren't possible, well they can just step in and sponsor 'Spike's Car Radio,' my new cars-and-coffee podcast on Podcast One," he reasoned. "I'll help you sell the [muffin top] things."
FOLLOW US ON FACEBOOK FOR MORE FOX LIFESTYLE NEWS
McDonald's announced earlier this week that its new "muffin toppers" — which were tested in the Baltimore area last year — would be coming to restaurants across the U.S. along with other baked goods, as part of their efforts to push more breakfast offerings.
"Customers can also expect to see an elevated McCafé experience in our modernized U.S. restaurants — delicious menu items like muffin toppers, coffee cakes, apple pies with lattice crusts that are baked in-restaurant and cookies are part of our Experience of the Future deployment," a representative for McDonald's told Fox News on Wednesday.