Salt Bae no longer salting with bare hands amid concerns over NYC health violations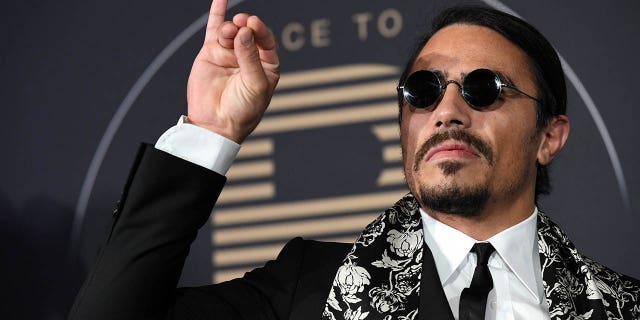 Less than two weeks after the Manhattan location of his Nusr-et Steakhouse opened to unfavorable reviews, Eater NY rubbed a little more salt into Salt Bae's wounds by pointing out that he may have been violating NYC's health codes by handling his salts bare-handed.
Now, however, a patron at Manhattan's Nusr-et Steakhouse has confirmed to Fox News that Nusret Gökçe — aka "Salt Bae" — was using gloves to salt his steaks on Tuesday evening.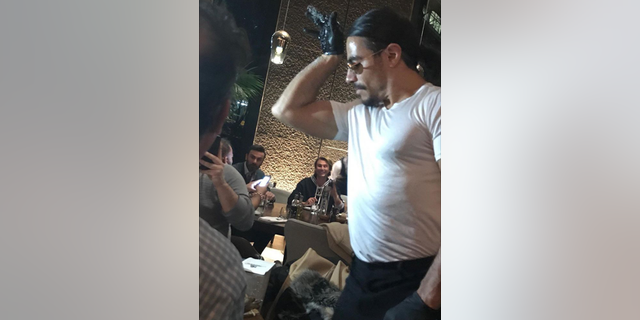 On the other hand, he does still seem to be bouncing salt off his forearm before it hits the steaks, as seen in recent Instagram footage from his restaurant.
SOUTH CAROLINA RESTAURANT WON'T SHOW SUPER BOWL, NFL GAMES UNTIL LEAGUE STOPS 'SHOWING DISRESPECT
Eater first reported that Gökçe — who skyrocketed to international Instagram fame after his salt-sprinkling skills went viral in early 2017 — might have been violating New York City's health codes with his meat-caressing, flair-filled antics in an article they published Monday.
Citing an article in the New York City Health Code, Eater noted that Gökçe's signature act of salting the meat bare-handed — without wearing gloves — might be in violation of clause 81.07, which stipulates that workers must be using utensils of "sufficient length to prevent bare hand contact with ready to eat potentially hazardous food."
But it's not just his salting methods that were called into question: As Instagram footage from his new restaurant has shown, he's been slicing meat tableside at his NYC location, handling it sans-gloves before presenting it for consumption.
SALT BAE RESTAURANTEUR SLAMMED FOR FIDEL CASTRO IMPERSONATION PHOTO
Another section of article 81 stipulates that "food workers may not wear jewelry on their arms or hands" unless it's a medical bracelet or "smooth ring" — a clause that Gökçe appears to be violating with his flashy watch.
A representative for the city's Department of Health told Eater they would be investigating the matter.
Gökçe's New York City restaurant opened on Jan. 18, though subsequent reviews were less-than-complimentary, and not because of Gökçe's salt-based antics. Steve Cuozzo of the New York Post deemed the place a "rip-off" after he and two friends racked up a bill totaling $521, even though they each only had two drinks with dinner. Joshua David Stein of GQ added that the steak he ordered was "mundane," "tough" and "bland," but that it "does not matter" simply because the experience is what guests are likely paying for.
Despite this, reviewers on Yelp have so far awarded NYC's Nusr-et Steakhouse with three-and-a-half out of five stars.
FOLLOW US ON FACEBOOK FOR MORE FOX LIFESTYLE NEWS
Gökçe operates 12 other restaurants in Turkey, Dubai, Abu Dhabi, Qatar and Miami.