Reebok has developed its own bacon products to CrossFit community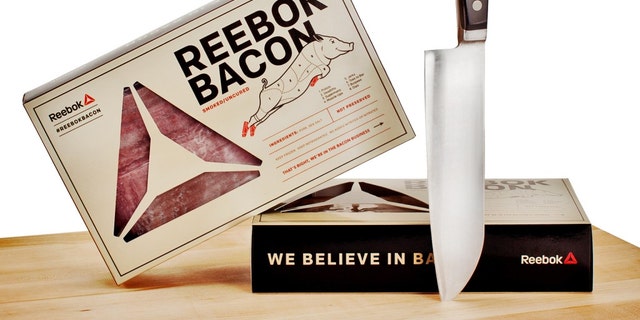 We thought that bacon had jumped the shark. But this is the most interesting bacon news we've heard in some time.
Reebok has developed its own bacon products to engage with the CrossFit Community and celebrate the 2014 Reebok CrossFit Games --which kicked off this week.
Bacon –beyond it's appearance on everything from cupcakes to cocktails—is still secretly beloved by Americans. And it is also one of the most consumed treats for those following a Paleolithic diet, which focuses on protein-packed food and eschews things like grains, dairy, legumes, refined sugars, and excessive salt.
The Reebok Bacon is especially interesting because it is free from all nitrates, preservatives, MSG, and sweeteners, and is smoked rather than cured— in accordance with CrossFit code.
The Reebok Bacon was packaged and distributed to athletes and fans before the start of the games –which runs until July 27. Reebok also has a physical presence at the 2014 Reebok CrossFit Games with the Reebok Bacon Box—a food truck handing out bacon-based menu items to CrossFit Games attendees.
The Reebok Bacon Box will serve up a different bacon-wrapped item each day, and a secret menu will be available online for those interested in a chance to win a prize. Among the food items are bacon-wrapped artichokes, bacon-wrapped chorizo-stuffed dates, bacon-wrapped seasoned pork belly, and bacon-wrapped carne asada and pepperoncini.