Recipe: Frankies' Classic Meatballs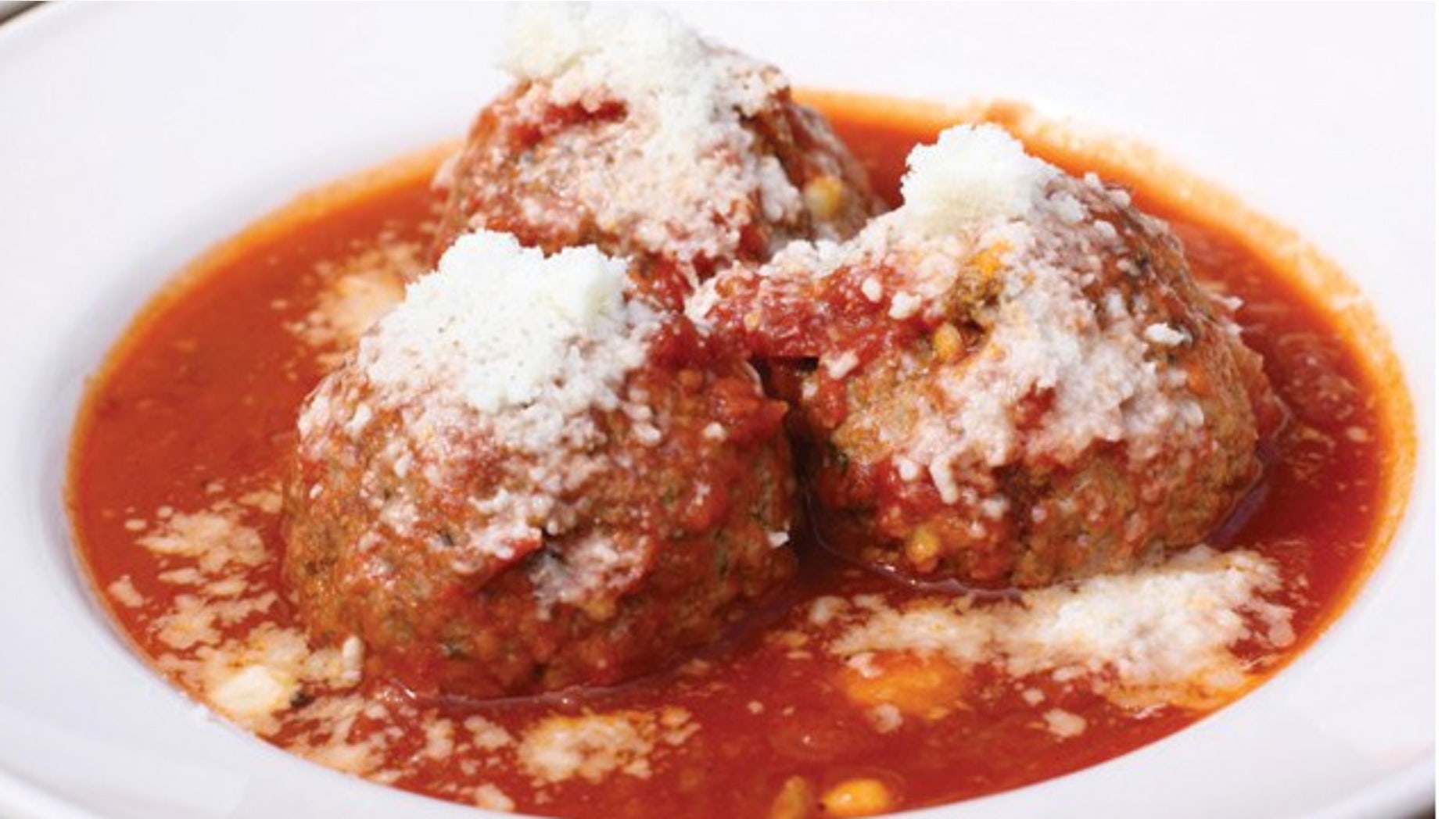 Frankie's Classic Meatballs
Frankie's Spuntino, the Italian restaurant in Brooklyn, New York--run by Frank Falcinelli and Frank Castronovo-- is a popular favorite, especially for their tennis ball-sized meat balls.
Yield: Makes 15 large meatballs
Ingredients 
4 slices plain white bread, torn into large pieces (about 2 packed cups)
2 pounds ground beef (90 percent lean, no fattier)
3 medium garlic cloves, minced
1/4 cup finely chopped fresh Italian parsley leaves
1/4 cup finely grated Pecorino Romano, plus more for serving
1/4 cup pine nuts
1/4 cup raisins
1 1/2 teaspoons fine salt
15 turns freshly ground white pepper
4 large eggs
1/2 cup dried plain breadcrumbs
12 cups (3 quarts) tomato sauce, such as our Basic Tomato Sauce
Directions  
Heat the oven to 325°F and arrange a rack in the middle.
1. Place the bread in a large bowl, cover with water, and let soak until saturated, about 1 minute.
2. Pour off the remaining water, wring out the bread, and tear it into tiny pieces. Place in a large bowl.
3. Add the remaining ingredients except the breadcrumbs and tomato sauce and mix to combine.
4. Add the breadcrumbs a little at a time until the mixture is moist wet, not sloppy wet. (You may not have to add all of the breadcrumbs.)
5. Roll 1/2 cup of the meat mixture between your hands until it's smooth, compact, and round (about 2 inches in diameter) and place the meatball on a baking sheet; repeat until you have 15 meatballs, spacing them 1 inch apart on the baking sheet.
6. Bake until firm and just cooked through, about 25 to 30 minutes. (At this point, you can cool the meatballs and hold them in the refrigerator for as long as a couple of days or freeze them for the future.)
7. Meanwhile, heat the tomato sauce in a large pot over medium heat until simmering.
8. Add the meatballs and increase the heat to medium high until the sauce returns to a simmer. Reduce the heat to low and simmer until the meatballs soak up some of the sauce, at least 30 minutes.
9. Serve 3 meatballs per person with a healthy helping of the sauce. Top each portion with a fluffy mountain of grated cheese.
Excerpted from "The Frankies Spuntino Kitchen Companion & Cooking Manual"