Rabbit pizza billboard causes a stir in New Zealand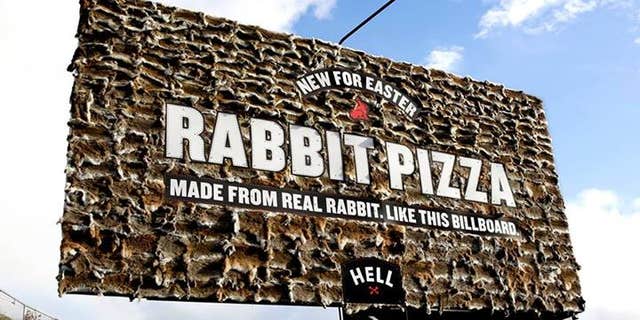 Hell Pizza of New Zealand is coming under fire, pun intended, for their latest advertisement.
The expanding chain created a specialty pizza just in time for Easter topped with- what else but smoked rabbit. To promote their new product, the company created a billboard with actual rabbit pelts.
The larger than life display features the tagline "Made from real rabbit. Like this billboard."
It wasn't long before the ad began to draw the attention of the internet community, chastising the company for the graphic use of animal skins.
One Reddit user commented "Look, sometimes in order to make a pizza, you have to kill a few hundred rabbits and nail them to a billboard. It's like omelettes and eggs."
Another claimed the rabbits must have been "brutally murdered" for the ad.
On Twitter, the reaction was just as unforgiving.
In the wake of the controversy, Hell Pizza posted a note on its Facebook page to concerned animal advocates, noting that they "sourced these rabbit skins via a professional animal tanning company, who in turn sourced them from local meat processing companies where the skins are a regular by-product."
The company also says that while rabbits are adorable, they are a "noted pest" that damage the New Zealand environment. But, they are also delicious. And it looks like some diners down under won't let a little billboard controversy get in the way of tasty grub.
Hell Pizza's gourmet special pie is topped smoked wild rabbit, toasted pine nuts, beetroot and horopito relish, cream cheese, rosemary and fresh spring onions.
That's definitely one way to celebrate the Easter bunny.