'Pizza to the Polls' is delivering pies to packed polling places across the country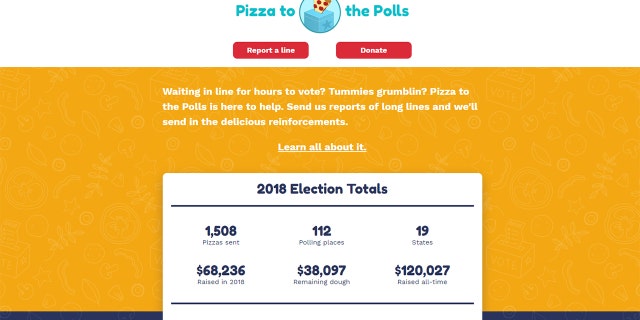 Pizza and voting: Two of life's greatest pleasures, finally together once again.
A group calling itself "Pizza to the Polls" will be sending out pizza to a slew of polling locations across the country, in the hopes of making the long lines a little more palatable.
WHERE TO GET FREE FOOD ON ELECTION DAY
"We're big fans of voting and want to make it easy and take some of the dreariness away," Pizza to the Polls co-founder Scott Duncombe tells USA Today.
Duncombe and his friends actually started Pizza to the Polls ahead of the 2016 election, during which they organized the delivery of nearly 2,400 pizzas to polling places across 24 states, per the outlet.
Each pizza is funded by donations solicited through the Pizza to the Polls website, and voters can request food by taking to social media to share pictures of their packed polling places, and then sharing the links at Pizza to the Polls' official site.
"I came up with the idea talking with my friends and my buddy Noah Manger and I built the site and got it rolling," Duncombe told Fox News of his initiative shortly before Election Day 2016.
"The reaction [from] folks in line has been great," he said of that year's initial deliveries.
TRIPADVISOR NAMES BEST PIZZERIA IN COUNTRY, AND IT'S NOT WHERE YOU THINK
This year, as of 11 a.m. EST on Tuesday, Pizza to the Polls had already delivered more than 1,500 pizzas to polling locations in 19 states.
The site had also raised over $68,000 as of Tuesday morning; any money not spent on pizza will be saved "for future hungry voters and/or marchers."
FOLLOW US ON FACEBOOK FOR MORE FOX LIFESTYLE NEWS
Pizza to the Polls is a non-partisan organization, Duncombe told Fox News.
"Ain't nothing partisan about trying to make voting less of a drag," the website reads.