'Pizza fatalities' reported after DiGiorno, Tombstone truck crashes on Arkansas highway
The Arkansas Department of Transportation is mourning "lots of pizza fatalities" after a truck carrying frozen pizza crashed on a stretch of highway in Little Rock.
The accident happened at about 1 p.m. on Wednesday, after the truck rammed into an overpass on Interstate 30. According to the Arkansas Democrat-Gazette, the 18-wheeler scraped up against a bridge support at the Mabelvale Pike overpass, tearing off part of the trailer and causing the vehicle to spill its cheesy haul — along with a bunch of diesel fuel — across the highway.
BUD LIGHT TRUCK FLIPS OVER IN ARIZONA, STATES DOT STARTS TWEETING JOKES
No injuries were reported, but hundreds of frozen Tombstone and DiGiorno pizzas were sacrificed in the collision, as seen in photos tweeted out by the Arkansas Department of Transportation.
From the scene, DoT spokesperson Danny Straessle also confirmed "lots of frozen pizza laying out on the interstate right now … lots of pizza fatalities."
The highway was reportedly closed for four hours while cleanup crews attended to the mess. Traffic was reportedly backed up for miles in both directions until the highway reopened at 5:30 p.m., the Democrat-Gazette reported.
The overpass itself suffered only cosmetic damage, the DoT confirmed.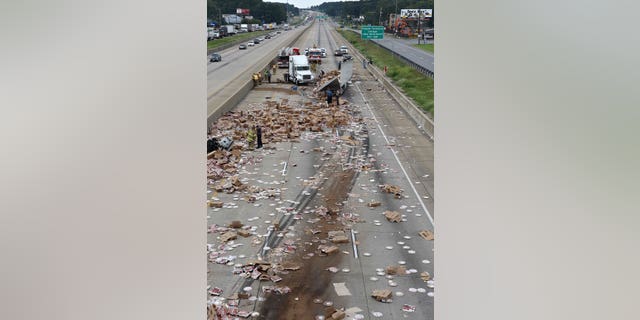 FOLLOW US ON FACEBOOK FOR MORE FOX LIFESTYLE NEWS
This is reportedly the second time in two weeks that a truck delivering consumable goods has crashed in Arkansas. On Aug. 2, a semi-truck hauling whiskey overturned on I-40.
Straessle has since said he hopes no other food trucks befall accidents on Arkansas roadways, but confirmed that he's already gotten "several requests for an ice cream truck" to flip over.
"Gosh I hope nothing happens, because if there is one, I might be blamed for it," he told the Democrat-Gazette.