'Pepper X' said to be world's hottest chili, burns with twice the heat of Carolina Reaper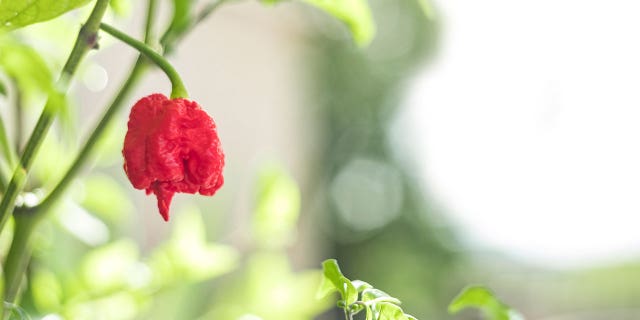 You might want to grab a cold glass of milk for this one.
The same breeder behind the Carolina Reaper pepper, which was recognized as the world's hottest by the Guinness Book of World Records until May 2017, is claiming to have grown a significantly spicier chili he's calling "Pepper X."
WATCH: WORLD'S SPICIEST TORTILLA CHIP IS A WORLD OF HURT
"We're playing with fire," said pepper breeder Ed Currie when announcing his new pepper on a recent episode of First We Feast's "Hot Ones" web series.
"Pepper X is three times hotter than any other peppers that are out there available commercially," he claimed. "It's twice as hot as the Reaper at 1.6 million, so this is a dangerous pepper."
Measuring in at an alleged 3.18 Scoville units, Pepper X would be hotter than Carolina Reaper by a margin of more than 1 million Scoville units. (The Carolina Reaper measures an average of 1.9 million on the Scoville scale, Currie says. However, when it was recognized by the Guinness Book of World Records in 2013, it was listed at around 1.56 million Scoville units, reports Food & Wine.) Currie's claims would also make Pepper X effectively hotter than the Dragon's Breath, which was recently reported to be hotter than the Carolina Reaper when it debuted in May, boasting a Scoville score of 2.4 million.
OHIO MIDDLE-SCHOOLERS TREATED AFTER EATING EXTRA HOT PEPPERS
For reference, the average jalapeno pepper has a score of 10,000 to 20,000 Scoville units, while a habanero sits at 350,000, according to The Daily Meal.
Currie says his new Pepper X peppers have not yet been officially recognized as the world's hottest by the Guinness Book of World Records, though he's hopeful the results will come through in November.
Furthermore, Currie is confident that a Pepper X sauce he made for "Hot Ones," which is exclusively available at a site called Heatonist, will be found to be "the hottest natural sauce on the planet" when more lab test results come in. Meanwhile, the first 1,000 already sold out within two minutes, according to First We Feast.
FOLLOW US ON FACEBOOK FOR MORE FOX LIFESTYLE NEWS
Currie later revealed on Twitter that "Pepper X" is only a "temporary" name for his new pepper. He also says he has no official plans to make the peppers or the seeds themselves available for purchase, at least until "the record is secured."