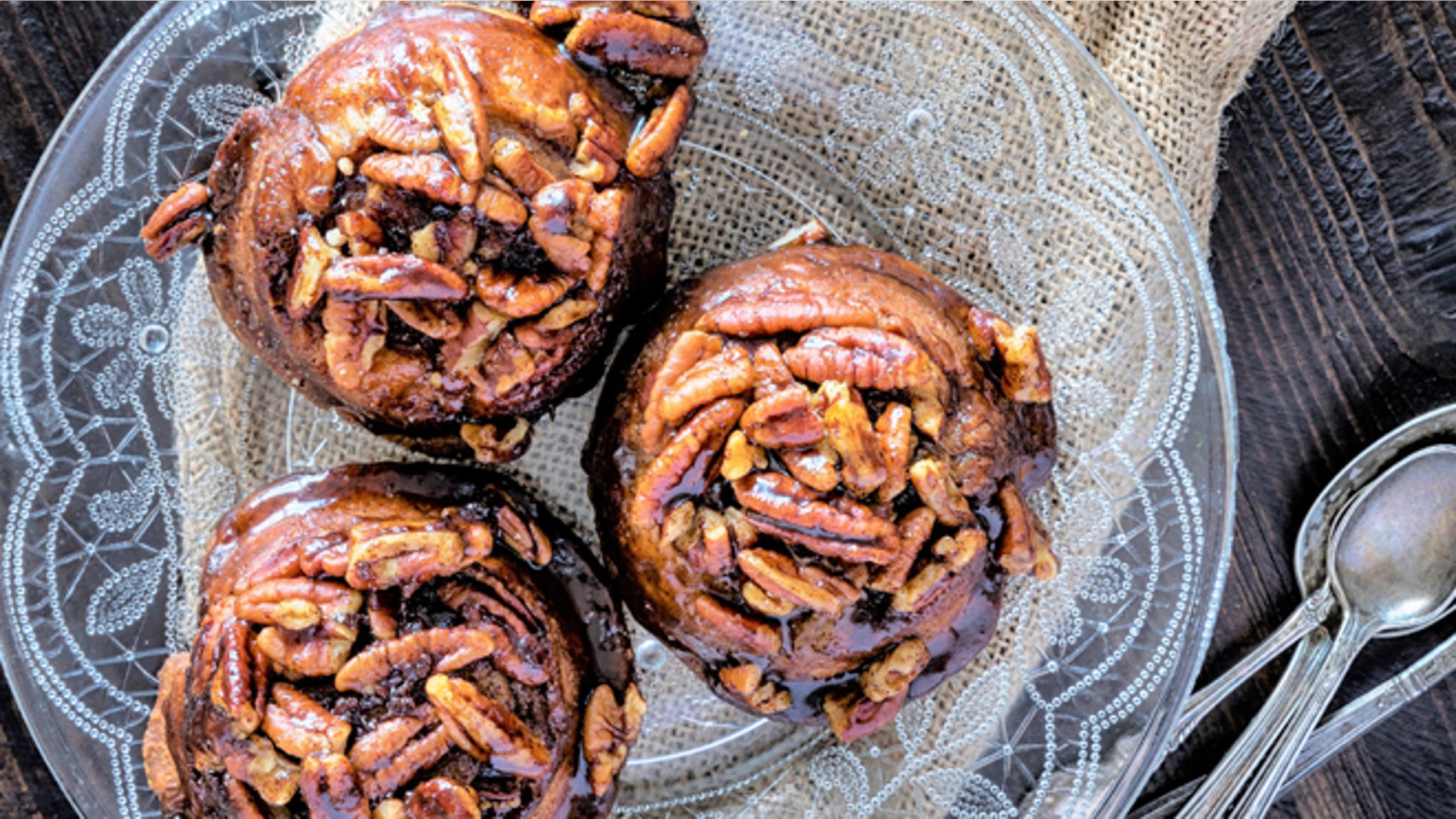 Check out this make-at-home version of Feed Your Soul Bakery's Pecan Sticky Buns. Feed Your Soul is an online retailer for cookies, brownies, and other baked goods, and these are one of the items that will be available in the Bakery's new Café at 14 Wall Street, Spring 2017.
Cook Time:30 min
Prep Time:3 hours30 min
Total Time:4 hours
Ingredients:
1 package active dry yeast (2 ¼ teaspoons) ¼ cup sugar (plus 1 teaspoon)
? cup warm water
1 cup whole milk
1/4 cup unsalted butter, room temperature
1 large egg
3 1/2 cups all-purpose flour (plus extra for rolling dough)
1/2 teaspoon kosher salt
1 egg (for basting buns before they enter the oven)
*OPTION – to save time, buy sweet pastry dough at your grocery store!
? cup (1 stick) unsalted butter, room temperature
1/2 cup (packed) dark brown sugar
1 tablespoon ground cinnamon
1/8 teaspoon kosher salt
1 cup pecans
? cup (1 stick) unsalted butter
? cup packed dark brown sugar
⅓ cup honey
? teaspoon kosher salt
Special equipment: rolling pin, bench scraper or knife, large baking dish or muffin pan, offset spatula
Preparation:
In the bowl of a stand mixer, fitted with a dough hook, combine yeast, 1 teaspoon sugar, and warm water. Let it stand until foamy, about 5 minutes. Add ¼ cup sugar, 1 cup milk, ¼ cup butter, 1 egg and ½ teaspoon salt. Mix to combine.
Gradually add flour and mix. Knead on medium-high speed until the dough comes together, about 5-6 minutes.
Place dough in large greased bowl; cover with a damp towel.
Let dough rise in a warm place for approximately 1 hour or until it doubles in size.
Chill dough 2 hours.
For the filling, combine butter (room temperature), dark brown sugar, cinnamon, and kosher salt in a bowl. Set filling aside.
Melt butter in a small heavy saucepan over medium heat. Stir in brown sugar, honey, salt.
Bring to a boil, reduce heat to medium, and simmer until glaze is golden brown and glossy, 3–4 minutes. Pour the glaze into your baking pan, tilting to coat bottom and sides.
Set aside remaining glaze.
Sprinkle ½ cup pecans over bottom of baking pan and let cool.
Roll out dough on a lightly floured work surface into a 12x18" rectangle about ¼" thick. Spread filling mixture over dough, leaving a 1" border on one long side. Beginning with the long edge closest to you, roll dough into a log, tightening as you roll. Pinch together the seam where the long side meets the roll to seal.
Cut log into 1 ½ inch slices and place into prepared dish or muffin pans.
Loosely cover pan with a towel and let rise in a warm area for 45 minutes.
Preheat oven to 350°. Whisk egg with ½ tsp. water in a small bowl. Brush tops of buns with egg wash prior to baking.
Bake at 350 degrees for 30 minutes, or until golden brown.
Remove Pan from oven and allow to cool 3 minutes. Place a large rimmed baking sheet over the pan. Using pot holders to protect your hands, hold the baking sheet and dish together, and invert the buns onto the sheet so that your glaze is on top. Let cool for 5 minutes.
Spoon remaining glaze over top. Sprinkle remaining pecans over top as well.
Serve buns warm or at room temperature.