Norway's Olympic chefs accidentally order 15,000 eggs from South Korean grocery store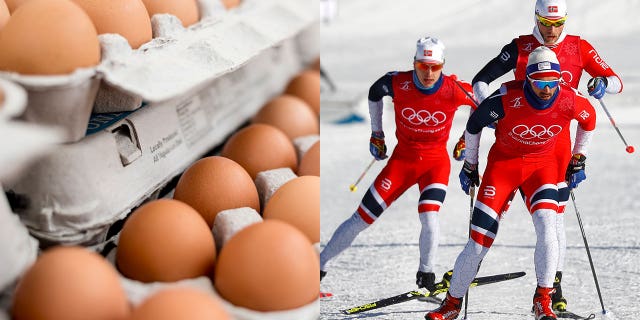 NEWYou can now listen to Fox News articles!
The chefs for Norway's Olympic team had some egg on their face — and everywhere else, apparently — after mistakenly ordering 15,000 of them from a South Korean grocery supplier.
OFFICIAL SWEATER OF NORWAY'S OLYMPIC SKI TEAM FEATURES SYMBOL USED BY NEO-NAZI GROUP
According to Norway's Aftenposten, the chefs in charge of supplying food for the Norwegian Olympians at the 2018 Games had used Google Translate to aid in placing an order for 1,500 eggs from a local market, but their message clearly got scrambled somewhere along the way.
The crew added that they only realized their mistake once the delivery arrived at their headquarters in Pyeongchang.
"There was literally no end to the delivery," chef Ståle Johansen recalled to Aftenposten. "Absolutely unbelievable."
TEAMS USA'S OLYMPIC COAT WILL HAVE BUILT-IN HEATING SYSTEM
Fortunately for the chefs, they were allowed to return all 13,500 of the unwanted eggs back to the supplier. Johansen added to Aftenposten that 1,500 eggs is sufficient to prepare a range of menu items for the team's skiers and ice skaters, including omelets, boiled eggs, fried eggs, baked goods, and smoked salmon with eggs.
And if Norway's team gets sick of eggs? Johansen has a special trick up his sleeve: He's planning to surprise the athletes with tacos, just like they enjoy on "Taco Friday" (or Tacofredag) back in Norway.
FOLLOW US ON FACEBOOK FOR MORE FOX LIFESTYLE NEWS
Norway's Olympians also made headlines last week, after the Alpine team's official sweaters were found to contain an old Norse symbol that has since been adopted by a Norwegian neo-Nazi party.
The company that designed the sweater had said the symbols were of significant culuiral importance, and argued that Norwegians should not allow a neo-Nazi party to take it from them. The designer has since made an alternate sweater, which the athletes can choose to wear in the original's stead.