New Japanese cookie claims to make breasts larger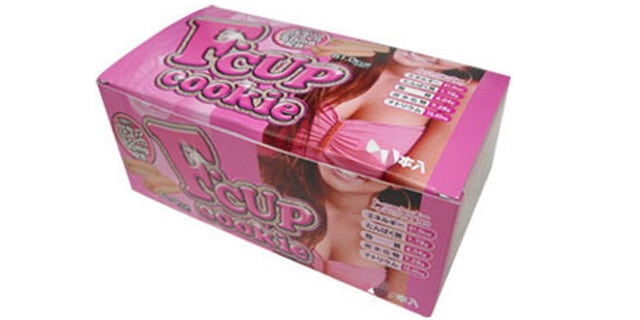 Cookies have a way of making you bust out where you don't want to. But would you go for a cookie that doesn't go to your waist and thighs . . . but makes you bust out in your bust instead?
A new product from Japan claims it will do exactly that: Eat one or two a day and you can safely and naturally increase the size of your breasts.
It sure beats plastic surgery – if it works.
Herbal "F-Cup Cookies" contain an extract of Pueraria Mirifica, a plant grown in northern and northeastern Thailand that contains Miroestrol, a form of estrogen.
Available in two flavors – Soy Milk or Pralines and Chocolate – each F-Cup cookie contains 50 mg of the hormonal extract.
The F-Cup cookie website recommends eating one or two a day with plenty of water. It cautions that women with pre-existing medical conditions affecting the ovaries, breasts or uterus should avoid consumption.
And if you're thinking "F" sounds a bit large, keep in mind that an "F" in Japan is similar to a "DD" in the U.S.
So does the product really measure up?
Probably not. While estrogen does affect breast size, there is no evidence that consuming Miroestrol extracted from Pueraria Mirifica has any impact on human cup size, according to nutrition expert Ian Marber who spoke to the Daily Mail.
But at only 70 calories each, F-Cup cookies may, at the very least, be a sweet, low-calorie snack food.
If you're the sort of boob who wants to try these things, the cookies, along with Bust Gum and other "breast beautification" products, are available through the company website.