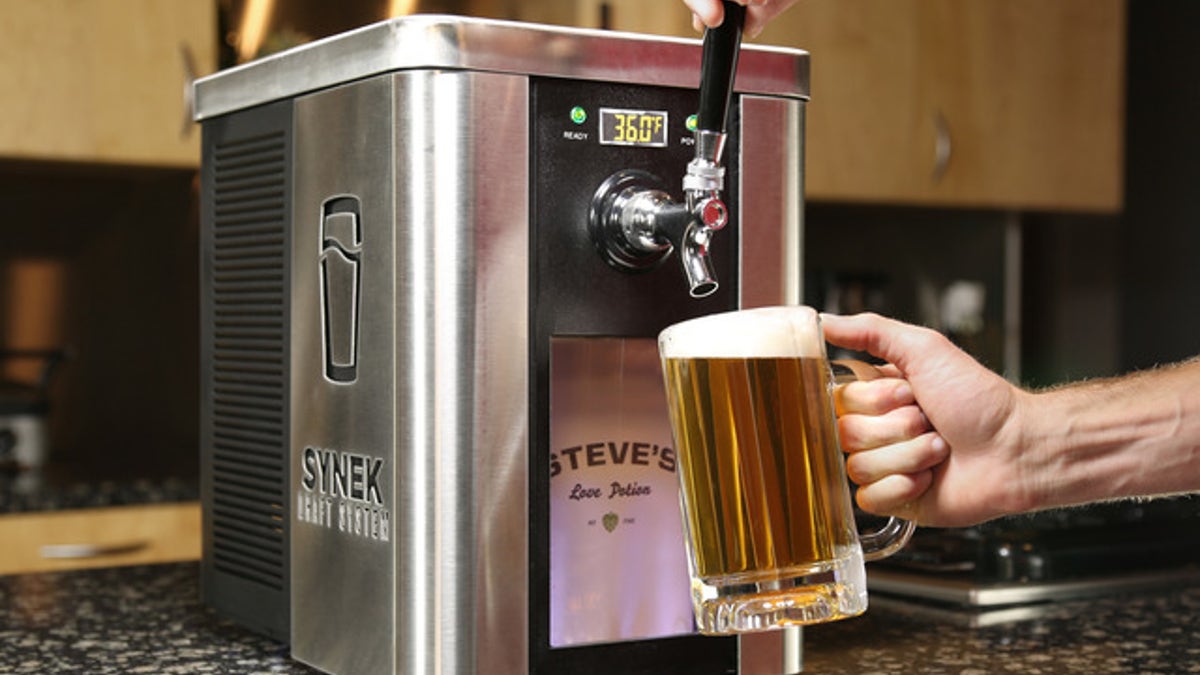 Beer enthusiasts rejoice. A new machine claims to deliver craft brews right in the comfort of your own home.
Introducing Synek, a personal tap system that uses interchangeable bag-in-a-box cartridges --similar to Keurig's coffee cartridges-- to deliver stein after stein of fresh beer.
Instead of a keg or glass growler, Synek takes vacuum-sealed, one-gallon bags of beer and lets users pump in their own carbonation. The carbonation is adjustable and the system has a pressure relief valve to prevent over pressurization.
Missouri inventor Steve Young says his cartridges are interchangeable (so you don't have to drink the whole bag) and the beer lasts up to 30 days with no lost carbonation --unlike with growlers or bottles.
Synek has already partnered with dozens of craft beer brands, including Red Hook, Five Stones and Growler Guys. Beer lovers can also fill their bags with the beer of their choice, using a special hose.
According to his Kickstarter page, the machine is "no bigger or heavier than a toaster oven" to appeal to those who have precious little counter space. And the system is portable, so you can take it to your next barbecue. Just make sure you have an outlet handy.
Synek --which is still in its prototype phase --has almost doubled its initial funding goal of $250,000 -- raising over $425,000--with 13 more days to go in its campaign.
The first estimated shipment of the machine is in early 2015 and it will retail for $349, with pre-orders priced at $299. Synek says it hope to keep its beer cartridges to about $1 each.
Check out Young as he explains his system and fills up one of his beer bags.