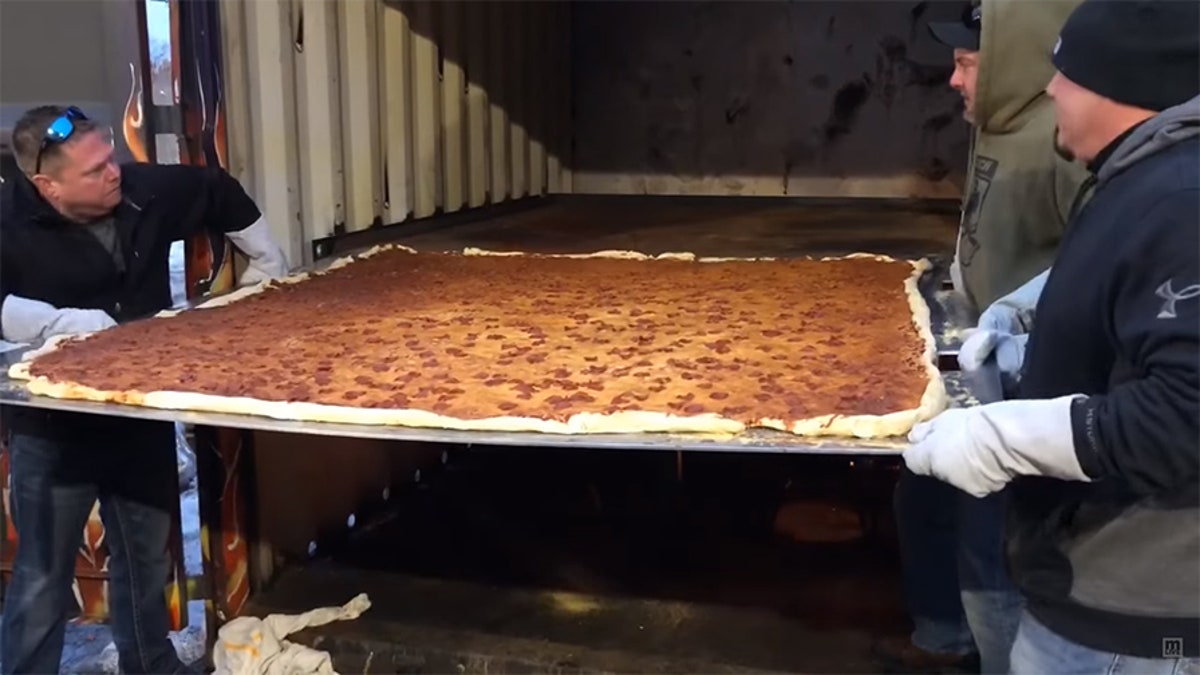 A Michigan restaurant and bar has taken the title for largest delivery pizza straight from the oven.
Mallie's Sports Grill & Bar in Southgate, MI, has cooked up a six-by-six-foot square pizza that is 100 pounds of gooey cheesy and pepperoni pizza splendor for the public to order.
The carb-heavy dish was started on a tray dusted with cornmeal and flour to prevent sticking. Then a team of five had to roll and stretch the dough for 20 minutes just to get it to the size they needed. The crust was placed in the oven to cook for 15 minutes before the 35 pounds of sauce, 15 pounds of cheese and heaping of pepperoni could be added.
CHIPOTLE CALLS RECORD-BREAKING CUSTOMER A 'SUPERHERO' FOR EATING 426 STRAIGHT DAYS OF CHIPOTLE
The pizza was then stuck back in the custom-built shipping-container oven where it cooked for two hours. MLive reports that one of the burners didn't work properly, which took the pizza a little longer to cook than anticipated.
Mallie's plans to have the burner fixed before the next time – and there may be a next time, as the freakishly large pizza is now a staple on the menu.
For $300, guests can have their own 72-inch one-topping pizza – 22 inches larger than the current Guinness World Record holder of 54 inches. Those within a five-mile radius can have the behemoth pie delivered for free. However, if you're thinking of ordering one, you have to give the restaurant 24-hours of notice.
FOLLOW US ON FACEBOOK FOR MORE FOX LIFESTYLE NEWS
Mallie's said the giant pie – which took four men to remove from the oven – was sent to the local fire department, Food & Wine reported.
Mallie's is still waiting to hear back about their World Record title.