Michelle Obama beats Ann Romney in cookie contest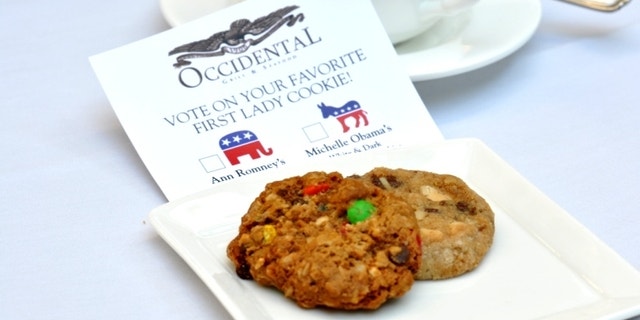 NEWYou can now listen to Fox News articles!
Forget the presidential debate tonight. The nation's most important face-off has already happened.
The contest to see who has the best cookie recipe has already netted a winner.
Michelle Obama's White and Dark Chocolate Chip Cookies won over Ann Romney's M&M's Cookies in the Family Circle magazine's quadrennial Presidential Cookie Bake Off.
About 9,000 people voted after baking both types of cookies at home to taste test them. According the magazine, it was a close race, as the first lady's recipe won by only 297 votes.
Obama winning cookie recipe, handed down by the godmother to Obama's two daughters Malia and Sasha, probably wouldn't pass the new public school lunch regulations, which the First Lady championed. The recipe calls for two sticks of butter and a stick of Crisco's butter-flavored shortening -- as well as two kinds of chocolate chips.
Romney's cookie isn't too heart healthy either. And since it calls for peanut butter, there is no way it would be served in public schools either. The recipe, which she says her grandchildren go gaga over, uses rolled oats, peanut butter, M&Ms and chocolate chips.
For those worried that the outcome of next month's presidential election will be decided on cookie cred alone, fear not. In 2008, Michelle Obama lost to Cindy McCain. But Family Circle notes that in four out of five recent cookie contests, the winner has gone on to become first lady.
And if you happen to be in Washington, D.C. you can get a nibble of both cookies. The Occidental Grill & Seafood next the Willard Intercontinental Hotel, is giving away a complimentary set of cookies to diners.