McDonald's-themed Black Sabbath cover band is creepy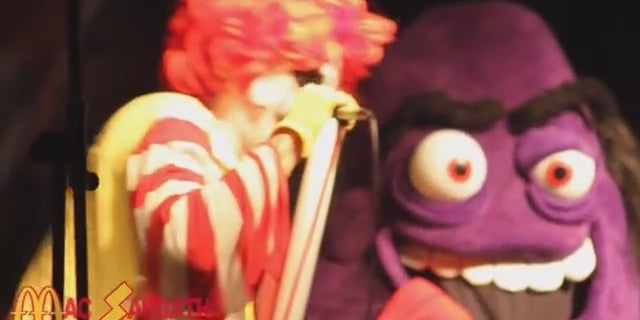 NEWYou can now listen to Fox News articles!
A Black Sabbath cover band made up of creepy McDonald's Happy Meal characters is playing the popular tunes of the popular heavy metal band, but with a bit of a twist.
The band members have updated the lyrics of popular Sabbath songs to be more food-related, and less related to death, according to Eater. The song 'Paranoid' was changed to 'Pair-a-Buns,' 'Iron Man' to 'Frying Pan,' and the list goes on.
On lead band vocals is potentially coked-out clown Ronald Osbourne in place of Ozzy Osbourne, and Mayor McCheese takes Tony Iommi's place on lead guitar. Replacing Bill Ward on drums is The Hamburglar, and Grimace replaces Geezer Butler on bass.
A few lyrics from the song 'Frying Pan' go like this:
Heavy longing for bed/
Fry these cows until you're fed
Throw out your raisin bran/
Frying pan lives again
Watch a live set from Mac Sabbath below: