McDonald's France has $15 burger that comes with a knife and fork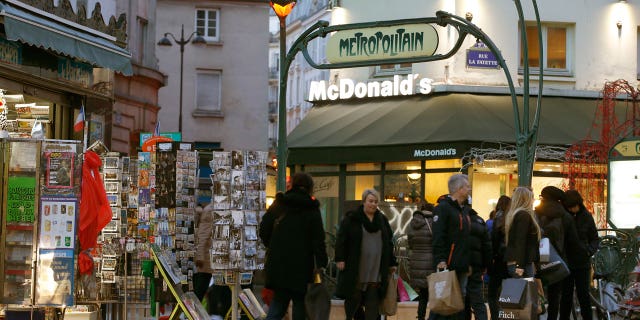 NEWYou can now listen to Fox News articles!
Leave it to the French to turn McDonald's into a fine-dining experience tres maginfique!
On Tuesday, McDonald's France formally announced that the country's McDonald's locations will be offering forks and knives alongside its more expensive burger offerings, reports French news outlet Le Figaro.
As explained by Xavier Royaux, the vice president of marketing for McDonald's France, the company hopes the move will continue to propel McDonald's into a leadership position within the burger market.
MCDONALD'S INTRODUCES THE FRORK, BUT WHAT THE FRORK IS IT?
Royaux, too, says the recyclable plastic cutlery is an "evolution" for the McDonald's France brand, which has already taken strides to distance itself from competitors with perks like table service and select gourmet offerings.
"The cutlery is an evolution and not a break, like what we were able to do with the table service, now present in more than 80 percent of our restaurants," said Royaux.
McDonald's France reportedly tested out their cutlery on patrons at 12 locations before deciding to institute the practice across all 1,400 of its French locations.
However, Mickey D's new knives and forks won't be dispensed alongside Big Macs or McDoubles; the company has reserved their cutlery only for patrons who order their Signature burgers, which include offerings such as the bleu cheese and bacon burger and, of course, a double bleu cheese and bacon burger.
Pas de mal.
McBurgers in France don't come cheap, though. According to Le Figaro, a Signature burger at McDonald's could run around 13.60 euro (just over $15), while other, non-Signature burgers cost between 7.50 and 8.50 euro (upwards of $8 or $9).
FOLLOW US ON FACEBOOK FOR MORE FOX LIFESTYLE NEWS
Nicolas Nouchi of the CHD Expert Group — a firm that analyzes "foodservice industry marketing trends and data" — further points out that McDonald's may be dividing its clientele by only offering forks to one set of patrons, he tells Le Figaro.
According to Nouchi, McDonald's runs the risk of "discrediting" its non-Signature burgers by not including cutlery with Big Macs or McChickens. This kind of "double treatment," he theorizes, could also impede the pace of the restaurants.
For now, though, burgers remain big business in France. Research firm Gira Conseil claims that three-quarters of all restaurants in France serve burgers, and, at 80 percent of those, the sandwiches were outselling actual steaks.
Sacre bleu!