Kellogg's files suit against Australian tennis player over 'Special K' nickname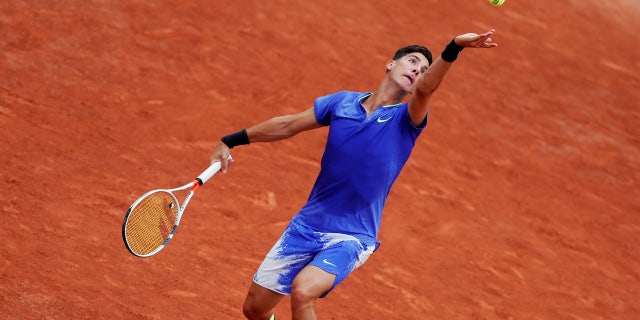 NEWYou can now listen to Fox News articles!
Kellogg's, a powerhouse in the breakfast industry, doesn't want anyone infringing on its crunchy, sweet turf.
The cereal company is suing Australian tennis player Thanasi Kokkinakis for trying to trademark the nickname "Special K" in an attemp to block him from using the moniker on sports and tennis wear. The hearing, which took place Thursday, came 17 months after Kellogg's first lodged its complaint against the tennis champ.
Kellogg's has owned the Australian trademark to the name Special K since 1959 and, according to court documents, they're working to ensure no one else-- especially Kokkinakis-- can use it, reports NY Daily News.
"Special K is obviously an iconic cereal brand for Kellogg's in Australia," a spokeswoman for the company's Australian division told The Guardian in a statement.
JELLY BELLY SUED BY WOMAN CLAIMING SHE DIDN'T KNOW JELLY BEANS CONTAIN SUGAR
On Thursday, a directions hearing took place with Kellogg's and Kokkinakis in the Federal court Adelaide Australia with Justice Brigitte Markovic presiding. She has since sent the case to a mediation conference in August, granting Kellogg's extra time to amend its statement and allowing Kokkinakis to file a defense claim.
Kokkinakis has not spoken publicly about this issue, but may have sent out a telling tweet suggesting how he feels about the whole situation.
A few of Kokkinakis' fans replied, suggesting that he should stick it out and fight for the name.
The trouble for the tennis pro doesn't end there, however, as Kokkinanis has battled through shoulder injuries for the last 18 months. In that time, he's only had one top-level singles match.
Kellogg's certainly isn't the first well known brand to turn to the law in order to protect its name when it comes to trademark infringment.
FOLLOW US ON FACEBOOK FOR MORE FOX LIFESTYLE NEWS
In May, The Eagles filed a lawsuit against the Hotel California in Mexico, claiming that the property was leading guests to believe that the hotel was in some way associated with the band. The hotel frequently played the popular song "Hotel California" and other hit tunes from The Eagles and sold merchandise described as "legendary."
In March, coffee giant Starbucks threatened to sue a tiny coffee shop, Star Box, in London. The coffee shop was opened by an Iranian refugee Nasser Kamali, who had been operating the shop for over five years. At the time, Kamali adamantly claimed he had no association with Starbucks, but derived the name from his support for Marxism-- as he sells coffee from a small red stand with red stars.
The Kellogg's case is set to return to the Australian federal court August 31.