Introducing the Big McRib: Food blogger combines two McDonald's greats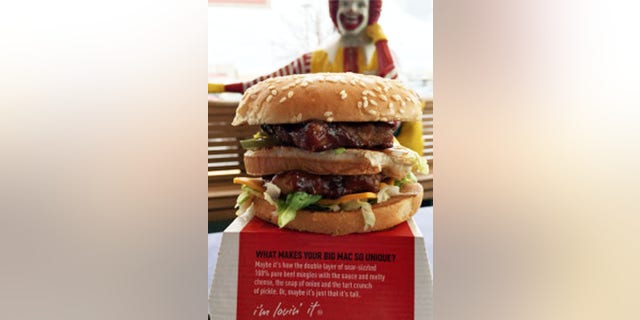 Why didn't McDonald's think of this?
Nick Chipman of food blog Dude Foods decided that his first taste of a McRib sandwich should be wedged in a Big Mac.
Behold the Big McRib, the McRib pork meat layered in a Big Mac's bun with all the fixings.
Chipman, who created the McEverything last year, is a pretty big fast food fan. But despite the legions of crazed fans who can't wait to get their hand on the limited-edition McRib each year, Chipman had never tried one.
After a friend told him about combining a Big Mac sandwich with the barbecue pork patties from a McRib, Chipman decided to try it out for himself.
"I swapped the patties out, but after realizing how delicious it was I think McDonald's seriously needs to start selling these," Chipman told FoxNews.com.
As a bonus, says Chipman: "They're great and on top of that they obviously have all the ingredients necessary to make them."
We're pretty sure devotees of the fast food chain would be psyched to see this on McDonald's permanent menu.
For 2015, Chipman plans to do a surprise ultimate White Castle mashup next --so stay tuned.