Human toes wanted by Yukon bar for Sourtoe cocktail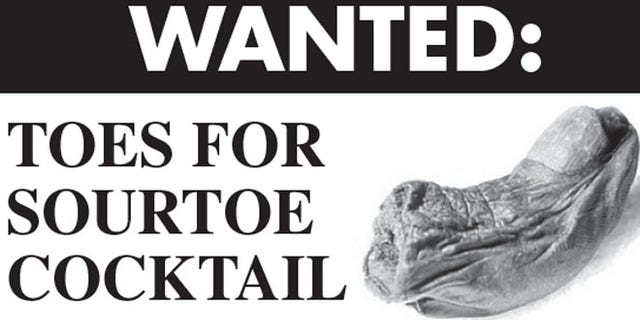 NEWYou can now listen to Fox News articles!
This cocktail is the stuff of legend. It's called the Sourtoe and requires only two ingredients -- booze and a mummified human toe.
The Downtown Hotel in Dawson City, Yukon, has been serving up the disturbing drink since the 1970's, but last month a pesky out-of-towner, known only as "Josh from New Orleans," scoffed at tradition and reportedly swallowed the whole toe in a shot of whiskey, destroying the key ingredient in the Canadian bar's $10 signature cocktail.
Bartenders usually serve the toe with a shot of Yukon Jack whiskey, but the Sourtoe original was made by putting the toe in a beer glass filled with champagne. The one rule of the drink is that the toe merely grace the lips of the courageous drinker, but it is not meant for consumption. In fact, the bar charges a $500 fee for toe-swallowing, which Josh did pay before disappearing without a trace.
Now the bar wants your toe.
The hotel is now running ads on its menu and website for new toes, ABC reported Thursday. Hotel spokesman Adam Gerle told ABC the bar still has one toe left, but even so, "we've been welcoming new toes."
The ad on the hotel's menu states:
Got frostbite? The Downtown Hotel in Dawson City, Yukon, is currently seeking toes for its World Famous Sourtoe Cocktail.
Donor will be forever immortalized in the Sourtoe Hall of Fame.
Contact adam@yukonhotels.com for details.
Legend has it, the original Sourtoe came from Louie Liken, a trapper and rum runner who traveled the arctic by dog sled with his brother, Otto, during the 1920's. Liken apparently lost his toe when he got his foot wet during a rum run and, fearing the Northwest Mounted Police were on to him, asked his brother Otto to chop off his frostbitten toe with an axe rather than go to the hospital. The two brothers were able to carry out the procedure by drinking massive quantities of the rum they were smuggling. They pickled the toe and eventually it made its way to Dawson City, where it became the key ingredient in the Sourtoe.
That original toe was accidentally swallowed in 1980 and the hotel has gone through about a dozen toes since. (The saga of every toe is logged on a website dedicated to the Sourtoe Cocktail Club.)
Gerle told ABC they've already had "a few offers" for toes, primarily from people who suffered an accident or will soon be undergoing a medical procedure entailing toe-removal.
After the toes are donated, they will be sterilized in alcohol and stored in margarita salt until they can float on a fresh shot of whiskey, waiting to touch the lips of the bar's most daring customers.