Hooters rolling out more conservative uniforms for servers in Asian restaurants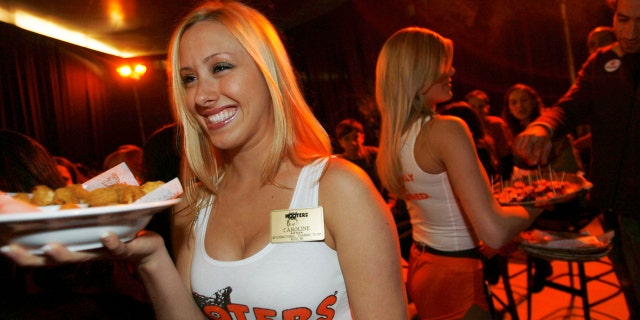 Hooters is famous for scantily clad servers but soon waitresses in Asia won't be showing as much skin.
On the brink of a major expansion into the continent, the wing restaurant is hoping to become a more family friendly dining destination—and that means a makeover is coming to the chain's most famous assets in new locations.
"We are still Hooters but we recognize that if we want to be a part of the community, we have to adapt to be embraced," Neil Bailey, the president of Hooters Asia told Singapore's Channel NewsAsia.
"So, as opposed to the attitude of 'We are here and get used to it', we say 'We'd like to be here. Is this acceptable?'"
BARE-CHESTED BARISTAS MAY SOON BE OUTLAWED
Bailey is planning to open 30 outlets in Asia this year but in some of the more conservative, predominantly Muslim countries like Indonesia, the tight tank top and short orange shorts are being replaced with shirts that have higher necklines and "longer skirts with shorts underneath and thicker stockings."
Bailey says his management team arranged meetings with local leaders before opening the first Jakarta location to discuss ways in which the chain could be "culturually respectful."
"We showed them our website and said: 'This is who we are. We know this is not acceptable so what would be acceptable?'" Bailey said. "They gave us some suggestions and we asked for some time to work on them."
The new restaurant setup also includes a tinted glass window so people on the street can't easily see inside. In addition to new uniforms, the menus at forthcoming Asian locations will incorporate local flavors like sambal sauce and feature a halal menu with kid friendly fare.
For now, the waitresses at the Jakarta location are wearing tank tops with higher necklines but Bailey says the new uniforms will be rolled out soon.
"Hooters of America was worried [that modifications would dilute the brand]but we didn't have to take long to convince them," Bailey told Channel NewsAsia. "You can't just come in with the mindset of 'I'm here now so accept it'. It's about adapting to your environment and knowing that you are the guest."
FOLLOW US ON FACEBOOK FOR MORE FOX LIFESTYLE NEWS
Bailey said Hooters has already received interest from landlords in nearby Malaysia and Kuala Lumpur to open new restaurants.
And while Hooters waitresses in the U.S. won't be covering up anytime soon, those looking for a more "family friendly" wing experience here can head to the newly opened Hoots in Cicero, Ill. The fast casual spot has both male and female servers-- and everyone is fully clothed.
A representative from Hooters was not immediately available for comment.