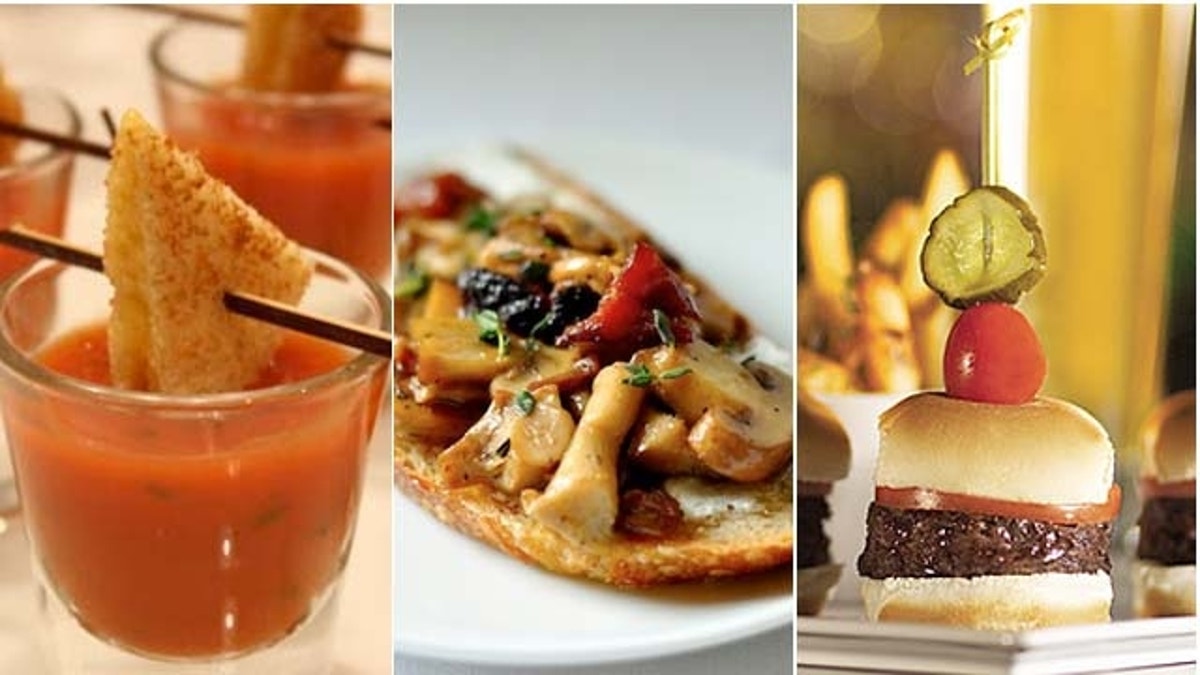 It's hard not to get swept up in the hall-decking, glass-clinking, merry-making spirit, isn't it?
So, in a fit of festive flourish, you invite the neighbors and their brood over for a little holiday cheer.
And then comes the catch-up phone call from those friends you've been trying to make plans with for months, so you invite them over, too.
And then your spouse's sweet sister calls, and, well, now she and her fiancé are headed your way, along with his two tots from his previous marriage.
And, oh wow, who could be at the door? Hey, it's your cousin Charlie blowing through town on a quick business trip, and he thought it would super fun to pop in and surprise you with holiday greetings. And of course it is.
What's more merry than getting together with friends and family this time of year?
But with all the present buying and card sending, maybe your dwindling bank account is tilting more toward bah-humbug than ho-ho-ho.
Fear not, strapped celebrants! For behold, with a few handy hints from the pros, you can revel on the cheap and no one will be the wiser (not even Santa) –- regardless of whether you're doing a sit-down for four or a holly-jolly jam for 40.
Professional party planner and event coordinator Karen Bussen, author of Simple Stunning Parties at Home, says that great presentation goes a jingly long way. One of her favorite decorating tips on the cheap? Stocking up on tons of white, unscented candles (preferably bought on sale at your handy-dandy local dollar or craft store).
"Nothing instantly transforms a room like soft light," Bussen says. She also nabs inexpensive glass tiles at her local home store to use as a pretty, protective runner on her table, nestling various-sized pillar candles on top of them.
"I get twice the bang for my buck, as the reflection makes it look like there are even more candles. The key for me is keeping the décor simple--- no more than two or three dominant colors, and enough negative space on the table to make room for food."
As the General Manager of one of the highest grossing steakhouses in the nation, Del Frisco's Double Eagle Steakhouse, Scott Gould learned a thing or two about transitioning upscale dishes to more casual party fare when he recently helped launch the more casual Del Frisco's Grille.
His tip? Downsize quantity without compromising the quality and stretch ingredients by using them in mini form. His top recommendations include mini-sliders with prime beef, or stuffing mushrooms with flavorful ingredients like sausage and breadcrumbs (easy to make on the cheap with leftover stale French or seedless Italian bread and a food processor or cheese grater).
Bruschetta on toasted slices of good quality bread like sour dough or a crusty Tuscan-style loaf is also one his favorite budget friendly go-to's. Don't be afraid to get creative with the toppings, he says, like broccoli rabe with goat cheese and or just keep it classic with tomato, mozzarella and freshly torn basil.
Gould also suggests morphing your favorite comfort foods into elegant yet affordable party bites. Spiff up work-a-day grilled cheese and tomato soup with a little gruyere and cut them into small bit sized portions. Serve them on a silver tray alongside small shot glasses filled with single-servings of creamy tomato soup with a dollop of sour cream or crème fraiche and a sourdough crouton.
And for bite-sized, make-ahead options, chef Richard Sandoval suggests the pot stickers he makes at Zengo and DoHYO, stuffed with seafood or veggies.
"They are affordable to make bite sized and you can fill them with whatever your guests prefer. These can be made ahead and frozen, then just stick them in the oven before guests arrive," he says.
Bussen says if you've decided to go all out with a sit-down dinner for a smaller crew, "I am a huge fan of Cornish Hens for holiday suppers if my guest count is six or fewer."
"They're inexpensive, cook more evenly (and lots quicker) than a big bird, and everyone gets two drumsticks!"
She also suggests roasting or baking things in individual portions for a pretty presentation with less waste. "A pear crisp served in its own small ramekin is so much more appealing than a giant baking dish that guests scoop from."
As for libations, don't poo-poo the box. Boxed wines have not only soared in quality, but for around $20 to $30 for a 3-liter box you're getting the equivalent of four 750 ml. bottles—that works out to less than 10 buck a pop, easy. Simply fill some pretty carafes or pitchers, and no one will be the wiser.
Also, look to unexpected spots for great deals. "There are a few regions to keep an eye on for great values. One of the hottest right now is Portugal. The Douro region is famous for big, rich, fortified ports. What most people don't realize is that they make dry wines too," says the aptly named Emily Wines, master sommelier and director of wines for Kimpton Hotels & Restaurants.
"Picture this, the rich, juicy black fruit in a ruby port that has been fermented dry. It is similar to drinking a cross between Zinfandel and Malbec, with a touch of earthiness. They are delicious and really reasonably priced."
For sparklers, Wines suggests ditching the Champers (always more expensive) and looking for sparkling-wine alternatives outside the famous bubbly region. "Champagne prices keep climbing into the stratosphere but there are many great sparkling wines out there that won't break the bank.
In France they use the word Cremant to designate wines that are made in the style of Champagne but are from other regions, like Cremant de Bourgogne, Cremant d'Alsace and Cremant de Loire. These are often very good and well-priced.
"Cremant de Limoux is one of the best deals and I haven't had one I didn't like!" Bussen ups the bubbly ante with sparkling wine-based cocktails using wallet-friendly Prosecco or Cava mixed with colorful pomegranate or cranberry juice and garnishing with a piece of fresh fruit.
"Plus, when you buy wine by the case, you can often save 10 percent or more," suggests Bussen.
And for kids, keep the effervescent theme going and ditch the sugary soda by making non-alcoholic juice "spritzers" for the kids.
"I like the mandarin orange and lime seltzer varieties to lighten the sugar per glass and add a festive touch. Drop a few fresh blueberries into the glass and they'll have a refreshing and sparkly treat," she says.