Historic moments rendered in Peeps for annual diorama contest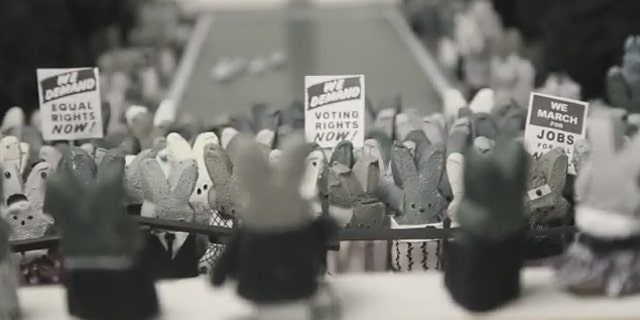 NEWYou can now listen to Fox News articles!
The results are in for the Washington Post's annual Peeps Diorama Contest.
The competition features America's favorite marshmallow critters reenacting defining moments from the past year, past decade or even past century – with the exception of one not-so-momentous poop joke that was worth including in the mix.
From a field of 700-plus entries, newsroom staffers voted on their top choices for stand-out dioramas and narrowed the list down to a final selection of five.
This year's winner, "I Have a Dream: Martin Luther King Jr. Addresses the Peeple," was created by Matthew McFeeley, Mary Clare Peate and Alex Baker of Washington, D.C.
"We were looking for an iconic visual," McFeeley told the Post.
McFeeley, with his two friends, recreated black-and-white photographs of the historic 1963 March on Washington using eight shades of gray and about 100 Peeps.
Finalists include titles like "Everyone Peeps," which features two Peeps sitting on toilets with jars of Fluff collecting their "waste."
Another finalist,"Peeping POTUS," takes a jab at this year's revelations about the National Security Agency's monitoring powers by showcasing a Peep family in their living room watching television with the NSA and the Oval Office on either side.
Check out all the finalists here and see the winning diorama below.