Harry Potter's Butterbeer Recipe Uncovered?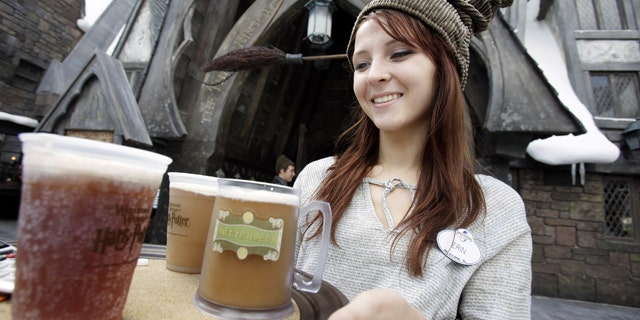 Got butterbeer?
Harry Potter fans are all abuzz about butterbeer, and they've got the foamy mustaches to prove it.
The cold and creamy, frothy drink is the most popular food item at the new Wizarding World of Harry Potter at Universal Orlando, according to Universal spokesman Tom Schroder, with visitors lining up to try it.
"Then they would walk around and have this mustache on," said Sabrina Sampson, 11, of Richmond, Va., who described the drink as tasting "like cream soda. It was somewhat thick, and it was really sweet, and then it got salty as you swallowed it, like butterscotch."
Schroder said that about half the visitors to The Wizarding World sample butterbeer.
"There may be no bigger product launch smash this year than butterbeer," WalletPop.com said.
"It's interesting that one small thing they can sell for a few dollars is getting as much attention as the rides," said Gabe Travers, who reviewed the park for WESH.com, the NBC affiliate in the Orlando area.
Immediately after The Wizarding World's June 18 opening, butterbeer was one of the most searched-for terms on the Internet. A butterbeer recipe on MuggleNet.com got 3,445 hits when the park opened, up from an average 350 daily views before the opening, according to MuggleNet.com spokesman Andrew Sims. Now the recipe is averaging 1,200 daily views.
Even DISboards.com, a site for fans of Disney World, has a separate thread for comments related to Universal's butterbeer.
Universal would not release its butterbeer recipe, but press materials describe the drink as "reminiscent of shortbread and butterscotch."
In the Harry Potter books, butterbeer appears to have an inebriating effect, and some older online recipes include butterscotch schnapps, but the Universal version is nonalcoholic. In Bon Appetit's January 2002 issue, author J.K. Rowling was asked what butterbeer tastes like, and she said: "I made it up. I imagine it to taste a little bit like less sickly butterscotch."
The version sold at The Wizarding World was tasted and approved by Rowling herself.
"Everyone knows butterbeer was approved by J.K. Rowling, so people want to taste it and see if their tastebuds match up," said Travers.
Visitors to the park see a large wooden barrel that bears the word "BUTTERBEER" as soon as they enter, and they can buy it from a street cart and inside The Three Broomsticks restaurant and Hog's Head pub.
Butterbeer is sold in two varieties, regular and frozen, but many people buy both. "There are some two-fisted butterbeer moments happening," said Schroder. The consensus among online fans appears to be that the frozen version is more delicious.
The drink is drawn from a tap, like a beer, and the dense, whipped topping is added from a separate tap. It's served in cups, about $3 ($4 for frozen) for a disposable cup and about $10 ($11 for frozen) for a hard plastic souvenir stein.
Travers said if he were trying to make the drink at home, he'd "start with a good cream soda." The hard part, he said, would be the topping: "It tastes like a Werther's caramel candy but the foam had the consistency of a dairy or latte type of foam. It's pretty dense; it floats on top."
Robert Lima of Warwick, R.I., who says he still loves "all that is Harry Potter" even though he's 24 years old, tried butterbeer a week after the park opened and described it as "frosty magical goodness!"
But Sabrina Sampson had one small reservation: "It was too sweet to chug down, but it was good for the first five sips or so."
----------
No need to travel to Hogsmeade (or to Universal Orlando) to get a taste of Harry Potter's butterbeer. Universal isn't giving out its recipe, but we've created an easy version of the formerly fictional drink made famous by the young wizard.
BUTTERBEER
Start to finish: 1 hour (10 minutes active)
Servings: 4
1 cup light or dark brown sugar
2 tablespoons water
6 tablespoon butter
1/2 teaspoon salt
1/2 teaspoon cider vinegar
3/4 cup heavy cream, divided
1/2 teaspoon rum extract
Four 12-ounce bottles cream soda
In a small saucepan over medium, combine the brown sugar and water. Bring to a gentle boil and cook, stirring often, until the mixture reads 240 F on a candy thermometer.
Stir in the butter, salt, vinegar and 1/4 heavy cream. Set aside to cool to room temperature.
Once the mixture has cooled, stir in the rum extract.
In a medium bowl, combine 2 tablespoons of the brown sugar mixture and the remaining 1/2 cup of heavy cream. Use an electric mixer to beat until just thickened, but not completely whipped, about 2 to 3 minutes.
To serve, divide the brown sugar mixture between 4 tall glasses (about 1/4 cup for each glass). Add 1/4 cup of cream soda to each glass, then stir to combine. Fill each glass nearly to the top with additional cream soda, then spoon the whipped topping over each.