Genius potato peeling trick will save you hours of time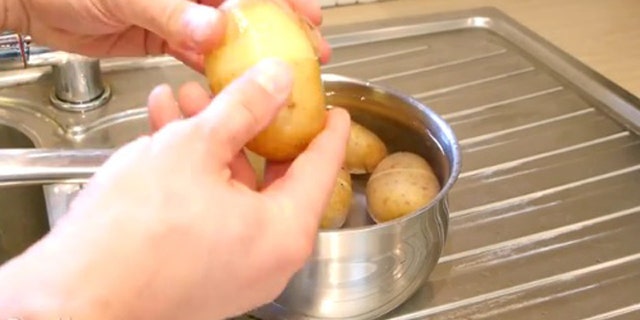 NEWYou can now listen to Fox News articles!
Who doesn't a love a perfectly creamy potato salad to go with that backyard barbecue.
But who has time to spend hours peeling pounds of potatoes? Not to mention the occasional kitchen injury that occurs from sharp blade slippage.
Now Dave Hax, the clever YouTuber behind the sneak-more-pizza trick, has another food hack that will make your life undoubtedly easier next time you have to deal with a load of rogue tubers.
To start, simply cut a thin line around the circumference of the potato. Don't cut too deep, but mind your fingers as you move the blade around. After each potato is cut, boil until done. Cool them off with some cold water and then the magic begins.
No knives, or extra utensils needed, just use your fingers to glide the skin right off. It's really that simple. Dave Hax appears to be using a small variety of Russet potato but we imagine this trick works with most tubers.