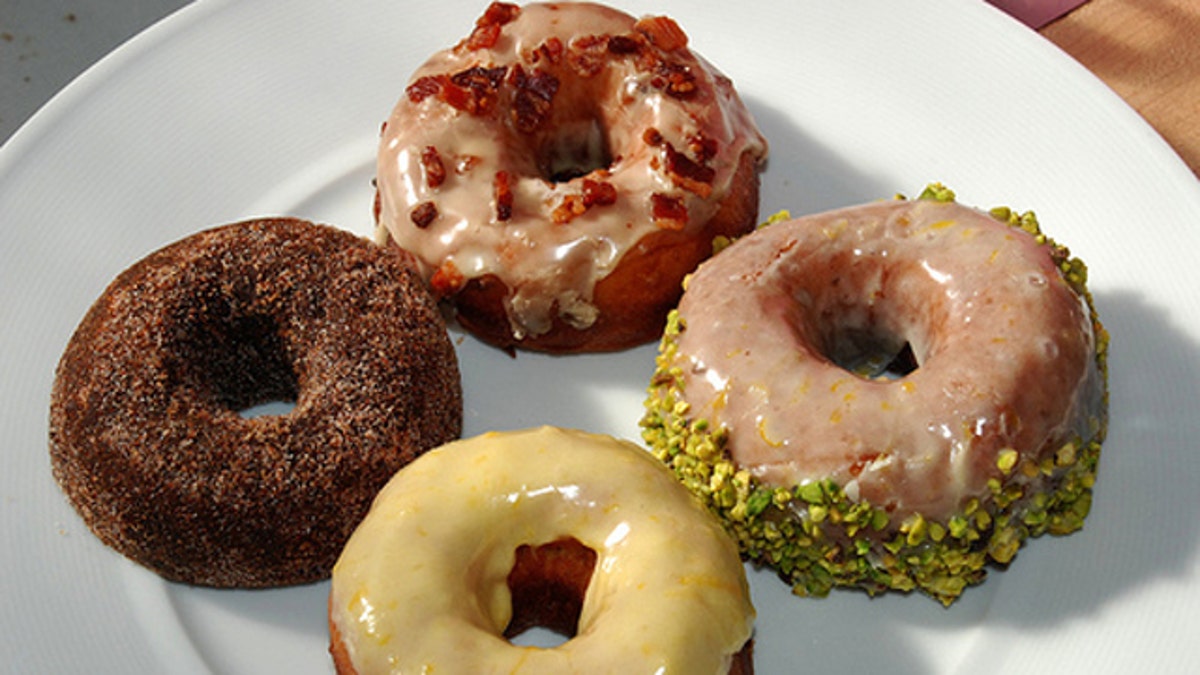 "All free men," said John F. Kennedy in West Berlin in 1963, "wherever they may live, are citizens of Berlin, and, therefore, as a free man, I take pride in the words 'Ich bin ein Berliner!'" Some linguists say that, rather than showing solidarity with the Berlin people, JFK proclaimed himself a jelly doughnut that day, albeit a German one - what the locals call a Berliner. The lowly doughnut had never been more exalted.
Maine sea captain Hanson Crockett Gregory supposedly created the doughnut in 1847 by spearing his mother's fried dough cake on his ship's helm during a storm. Gregory's descendent, F. E. Crockett, explained during a 1941 symposium on the origin of the doughnut that Hanson had merely asked his mother to remove the cakes' soggy centers. Fellow doughnut delegate Chief High Eagle claimed the honor for his people saying that the Wampanoag created doughnuts when their arrows narrowly missed pilgrim settlers and pierced cakes they were about to fry
Hmmm…
In any case, America's hand held treat has come a long way from its humble beginnings and rise to prominence as a coffee-dunking favorite. From haute to huge, here's a round-up of some of the country's most extreme doughnut shops.
Size matters. That's why Round Rock Donuts in Round Rock, Texas offers the Texas Size. Located about twenty miles north of Austin, Round Rock has been making doughnuts for more than eighty years. The Texas Size, glazed or chocolate covered, is the equivalent of a dozen glazed doughnuts rolled into one that's bigger than your head. Customers occasionally stack two and serve them as cake.
Two years ago Michelle Vazquez quit her job and got certified in doughnut making at AIB International in Manhattan, Kansas, whose mission since 1919 has been "to put science to work for the baker." Her Miami-based Mandarin Gourmet Donut Shoppe is a temple to such innovations as Fromage Blanc and Pomegranate and Guava and Mascarpone. Dulce de Leche, Flan and Mango-Glazed reflect Miami's Latin flair and Lemon Chamomile Crème Custard is a bestseller. Customers, she says, appreciate her modern twist on tradition. "I think they're looking for something that's a little bit higher-class than a regular doughnut."
Daleville, Virginia's Blue Collar Joe's caters to a different clientele. Daniel and Pru Knight converted a dilapidated gas station into a doughnut shop. They replaced the lifts with ovens, tables and racks of homemade sweets and turned the pump island into a doughnut drive-thru. The Botetourt Bog, triple chocolate with an Oreo crust, is named for Joe's county seat, and the OBX (acronym for "The Outer Banks," the 200-mile long stretch of barrier islands off North Carolina's coast) is a spice-based doughnut, dipped in maple-spice glaze and dusted with three types of sugars and six spices. "When it settles, it looks exactly like sand," say Knight. Camo's caramel, green icing and drizzled chocolate resembles camouflage. "It's western Virginia," he laughs. "We're a hunting culture."
Former bodyguard, mixed martial arts fighter and process-server Kirsten Anderson, makes whole wheat kick-ass doughnuts at underground Glazed Donuts Chicago. There's no storefront. Customers open a "subscription" for twice-monthly batches that she delivers herself. July's flavors are Peach with Rosemary and White Chocolate Blueberry. Her flavors are as eclectic as her background: Iced Mint Mojito, Apple Cheddar, Blood Orange-Whiskey Sour, Chinese Five Spice Chocolate and Irish Car Bomb (Baileys, Guinness and Jameson). She flavors her dough and glazes with fruit and herbs, creating intense sensations. "My doughnuts are organic, vegan, sustainable but at the same time they're accessible, traditional and comforting. I'm not about that kind of snooty, upper class thing." She is all about cake doughnuts: "yeast is for bread." Shoot her an email if Chicago's on your itinerary. If she's baking that week she'll deliver to your hotel.
Kenneth "Cat Daddy" Pogson and partner, Richard "Tres" Shannon's Voodoo Doughnut of Portland, Oregon (and now Eugene) put extreme doughnuts on the map. While local health officials pulled early favorite NyQuil Glazed, the vaguely-humanoid Voodoo Doll which oozes red jelly from a pretzel "stake" jutting from its heart remains. "Cap'n Crunch" tops the vanilla-glazed Captain, My Captain and "Fruit Loops" dominate The Loop. The Texas Challenge equals six regular doughnuts. If you eat it in eighty seconds you get your money back. Don't know the over/under on keeping it down.
The Granddaddy of them all is Mark Israel who's been quietly and consistently turning out extreme treats since opening Doughnut Plant in New York City in 1994. Using his grandfather's yeast-based recipe, Israel created the first square doughnut with his Peanut Butter Glaze and Raspberry Jam, "there's jam in every bite. No one had done that before. And, we make all our jams, jellies and custards." He fills Tres Leches with a triple-milk crème and hand-torches each Crème Brûlée, creating a crisp sugar shell atop a soft yeast doughnut filled with vanilla bean custard. It's crème brûlée that just happens to be a doughnut.
Pastry chef Sara Spearin of San Francisco's Dynamo Donuts is this list's only culinary professional. After twenty years she wanted to go out on her own and do something "American." Ice cream and cupcakes had already been done so she figured it was time, she laughs, "for doughnuts to get a little respect." Her elegantly crafted classic pairings include Lemon Pistachio and Huckleberry Meyer Lemon and sophisticated palate-pleasers like Lemon Sichuan (dusted with sugar and ground up Sichuan peppercorns). With rare leftovers, Spearin makes donut bread pudding.
If you've a yen for savory as well as sweet, special order the Luther Burger at Wiener and Still Champion in Evanston. Named for singer-songwriter and record producer Luther "Never Too Much" Vandross, it's a bacon-cheeseburger sandwiched between Krispy Kremes. And could it talk, it would declare: "Ich bin ein appetizer, main course and dessert all in one."