Eating a Trail Through London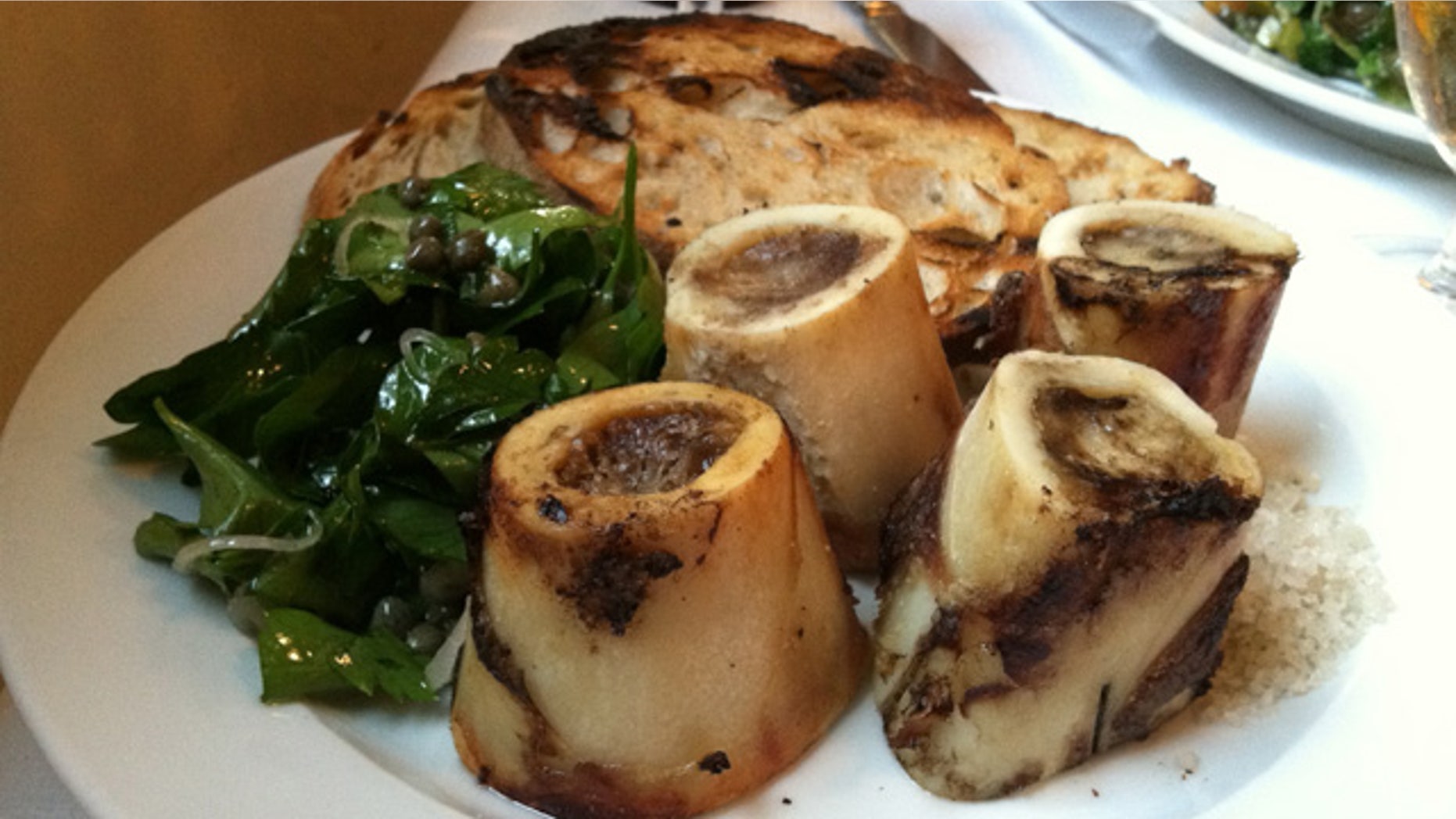 London is one of the most popular foreign destinations for Americans.  It has its own cuisine, coveted specialities, and a lot of restaurant options.  But with all the choice, where do you go to find its hidden gems? This is the first in a series looking at some of the great and not-so-great grub in the world's most popular cities. 
Being married to someone in the restaurant business has its upsides.
Exhibit A: Roast bone marrow at St. John restaurant in London. The dish, and the restaurant, have both won high praise in the food world. But as someone who teeters more on the edge of that world than in it, I would never have found nor ventured into this mainstay of British cuisine had my wife not flagged it on our itinerary.
The man behind the food, Fergus Henderson, is a pioneer of modern "nose-to-tail" eating, a rather self-explanatory term. But he doesn't have the ubiquitous global presence of, say, a Gordon Ramsay. He should.
Back to the dish. It's simple. A couple slices of toasted bread. A tangle of dressed parsley. And four cylinders of bone, roasted so the top layer of marrow looks like crème brulee. To eat, scoop out the marrow with the complimentary digging device, spread the fatty goo all over the bread, top with coarse salt and enjoy. I get why this dish is so famous. It wasn't enough, of course.
The side of rabbit offal – heart, kidneys and liver – on a bed of pea puree rounded things out. The experience was another reminder that, when traveling, it helps to do a little research before stumbling jet-lagged into the first pub or chophouse you see.
My wife Sangi and I were on a whirlwind, weeklong tour of London and Paris, with a brief stopover in the town of Harrogate to see a friend. We had much to do and not much time to do it in. London, we determined, would be much kinder to both of us on the eating front.
Sangi is a vegetarian, and while Britain gets a bad rap for its salt-starved meats and fishes, the food is far more diverse than it's made out to be. The plethora of Indian restaurants appealed to Sangi, as did the tea shops. For me, a combination of full English breakfasts and more adventurous riffs on traditional London food would do – all to be washed down with many pints of ale and glasses of whiskey.
When I was last in London nearly a decade ago, I remember a lot of pub food. Bangers, fish and chips, burgers, more chips. Today, the pubs are gastropubs. They serve British food, but they celebrate it rather than mourn it.
The first night, we stopped in one of them, The Pig's Ear in Chelsea, and I ordered my absolute favorite item of food on this island – a Scotch egg. For those who've never been to breakfast food heaven, this is a hard-boiled egg, wrapped entirely with sausage, coated with breadcrumbs and fried. What arrived was the size of a dodo egg.
The trip was getting off to a fine start.
The gastro-highlights of London are everywhere. Ottolenghi, a chain café/bakery whose small shops burst with the vibrant colors of its sweets and salads, is the perfect change-up between pub food. Wild Honey, a cozy and quiet place east of Hyde Park, offers affordable fine dining – with a smoked eel appetizer that belongs on the world's finest bagel. The Experimental Cocktail Club, a speakeasy-style upstairs bar hidden away in London's Chinatown, mixes some of the best concoctions (bourbon and cognac is my new favorite combo) known to man.
The food halls of Harrods are, of course, a must-visit, the kind of place where enough money can buy a Saudi prince or Russian oligarch just about anything they please. Ground rhinoceros horn for the lady? Walk right this way, sir … For a moment, I convinced myself I could roll with them and strolled up to the caviar counter. After a price check, I quietly slipped away and bought some cheese instead. In the few pounds range, I also picked up a block of wild-hare-and-hazelnut terrine, and a stomach-bloating pie of pork and Draymans chutney.
But no London trip is complete without at least some Indian food. These are, after all, the people who propagated Chicken Tikka Masala. After a sampling of so-so curry at Masala Zone in central London, we spent our last night at Rasoi – an intimate townhome-turned-restaurant run by Michelin-star chef Vineet Bhatia.
This is the kind of place where money can slip away fast. We accidentally paid 12 pounds for two water bottles. But in the very-niche world of upscale Indian food, this is the best we've had. Bhatia's food, while experimental, revolves around Indian comfort dishes, the kind that Indian mothers always make but Indian chefs – at least in America – rarely serve.
The highlight was a small glass of pineapple rasam to start off the meal. Rasam, traditionally, is a spicy, tomato-based broth that cures what ails you. The addition of pineapple, somehow, seemed to fit. The rest of the meal was a tour de food.
Skewered scallops and shrimp with a crab and scallion khichdi, which in its basic form is another comfort food of rice and lentils. Grilled lamb with cinnamon-spiked drippings. Seekh kebob with bleu cheese on walnut upma. Sangi's vegetarian version, complete with chili paneer and peanut-mushroom croquettes, was no less impressive.
Convinced we had gotten our money's worth out of London, we moved on Paris.
Up Next: Eating a Trail Through Paris