Domino's responds to accusations of 'poop' found in Cheesy Bread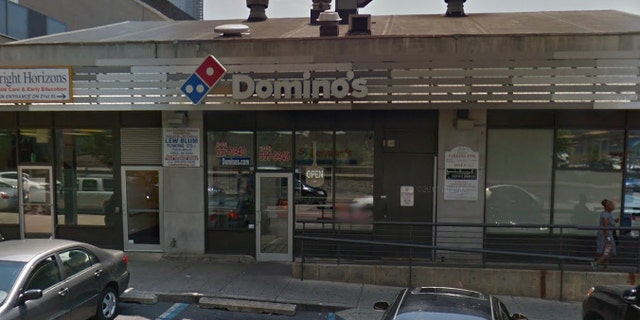 Domino's has responded to reports of a Philadelphia woman who claims to have found "poop" in her delivery order on Sunday night.
A spokesperson for the pizza chain said a health inspector visited the restaurant after the woman shared her complaint to Twitter — alongside photos of her order — and found "nothing of concern." However, a representative from the city's Department of Health told PhillyVoice.com that its inspector was unable to conduct an full inspection, and will do so when the restaurant reopens from its pre-scheduled renovation.
Domino's also confirmed that a health inspector will re-examine the store before it reopens next week.
POPEYES IN DETROIT CLOSES AFTER EMPLOYEE SHARES VIDEO OF KITCHEN
Concerns over "poop" in the pizza were first raised by Marta Rusek on Sunday evening, when she alerted her Twitter followers to the alleged find.
"I was halfway through an order of cheesy bread when I noticed a weird brown spot in it. It was poop," she wrote on the social media platform. "Domino's, y'all are disgusting."
"I poked it and smelled it," Rusek later told the PhillyVoice.com. "Definitely poop."
The next day, Rusek reportedly went to an urgent-care facility where she found she did not contract food poisoning, but should check back in the coming months for illnesses that may not be detectable immediately, such as Hepititus A. She says she also filed a "report of indecency" with the Philadelphia police.
BURGER KING RAISING AWARENESS OF 'PINK TAX' WITH NEW CAMPAIGN
In its statement, Domino's said the independent franchisee who owns the restaurant reached out to Rusek. Rusek confirmed someone contacted her and was "very professional" but implied that she was "making this all up" as his employees would never put feces in an order, she told PhillyVoice.
A representative for the city's Department of Public Health told the outlet that the restaurant was indeed visited on Monday, but the "sanitarian" was unable to contact an inspection as it had already closed.
"Our sanitarian spoke with the owner and confirmed that this establishment will be inspected when they re-open," said James Garrow of the City of Philadelphia's Department of Public Health.
It is unclear if Rusek plans to press charges, though she did indicate on Twitter that she would be contacting a lawyer.
FOLLOW US ON FACEBOOK FOR MORE FOX LIFESTYLE NEWS
In the meantime, her Twitter bio currently lists her interests as "'Star Wars,' pizza*, and feminism," with the asterisk leading to a footnote reading "except Domino's."
Rusek was not immediately available to comment.