Domino's launches salads nationwide, pizza-loving fans are not happy
Pizza Hut may have rolled out one its biggest creations yet this summer.
But competitor Domino's is taking a slightly different tack.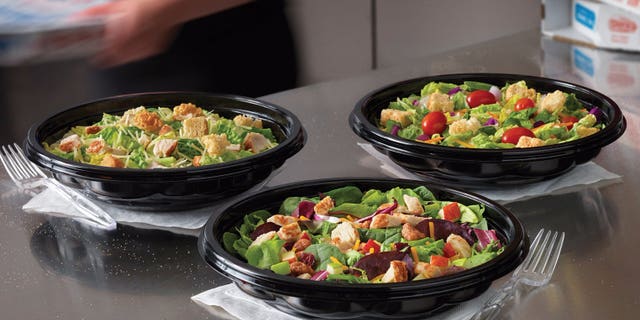 This week, the pizza chain announced the launch of three "new and improved" salads as part of an initiative to offer healthier delivery options nationwide.  Prior to the launch of revamped items, Domino's had previously offered salads at about one-fifth of its 5,000-plus U.S. location.
The salads include a classic garden salad with cherry tomatoes and red onion, a grilled chicken Caesar, and a chicken apple pecan salad.
"Now everybody can be happy on pizza night," Domino's chief marketing officer Joe Jordan touted in a press release. "There's no shame in wanting salad when everyone else wants pizza, especially now that Domino's has found a perfect way to offer even more options for customers across the country."
But there might be just a little shame—especially online—in ordering a salad from a chain known for it's cheesy creations available around the clock.
Many frequent users received texts from Domino's alerting them to the new dish and took to Twitter to vent their shock that their beloved pizza chain would be pushing something green.
Others say the pizza chain may have just lost their trust by offering salads and are just wondering why the chain would ever try such a stunt.
The salads aren't assembled in individual stores. Instead, the chain has  partnered with Ready Pac Foods to create the prepackaged salads, available for $5.99 each when paired with mix-and-match items like medium pizzas, wings, sandwiches, and pasta. Individually each salad costs $6.49—which is less than the cost of a pizza…but not by much.