Country star Kix Brooks celebrates outdoor cooking with first ever cookbook
Country star Kix Brooks is best known for sweet songs—performing as a solo artist and as half of the award-winning duo Brooks & Dunn. But these days, Brooks is getting recognized for his savory feats in the kitchen, from his Cooking Channel show "Steak Out with Kix Brooks" to his recently released cookbook "Cookin' It With Kix: The Art of Celebrating and the Fun of Outdoor Cooking."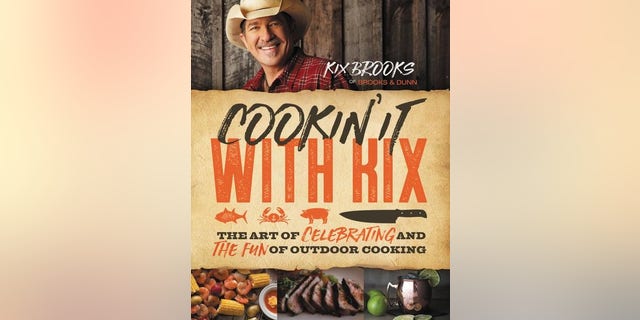 Brooks tells Fox Lifestyle that for him, cooking is all about the memories surrounding mealtime.
"I don't claim to be a chef but I realized that a lot of the people that really inspired my life, the good things in my life, the moments in my life that make the memories that I really cherish-- revolved around those things hunting and fishing and spending time, being out in a garden and learning about food and things that wind up on the dinner table," Brook says.
One his favorite recipes is a red beans and rice feast inspired by a year spent in New Orleans. Combining family influences with his own signature style, Brooks created a meaty take on a traditional dish.
"My wife actually, who's from Boston believe it or not, thought that was fun when she came to visit, and the fact that I loved red beans and rice, and we just started combining all those recipes and there may be five or six different kinds of sausages in this recipe."
Looking to spice up cocktail hour? "Cookin' It" also includes several beverage recipes, including a sangria that the country singer makes with wine from his Arrington Vineyard.
Brooks says he's learned from his concerts that music, food and good old fashioned outdoor parties are just a natural fit. He says his cookbook was inspired as much by his time on the road as at hme.
"I'd jump on the bike almost every concert and just go cruise through the parking lots to see what people are up to and there's this huge tailgate party. It's like a football game before people go in, they don't just go in and sit in their seats for hours," Brooks says of his fans who brought barbecue grills and plenty of grub to his shows.
"There's a lot of that kind of stuff in the book, too, so if you're going to a football game or a concert or whatever, here's some fun foods you can take with you to snack on."