Competitive eater devours 255 marshmallow Peeps, breaks world record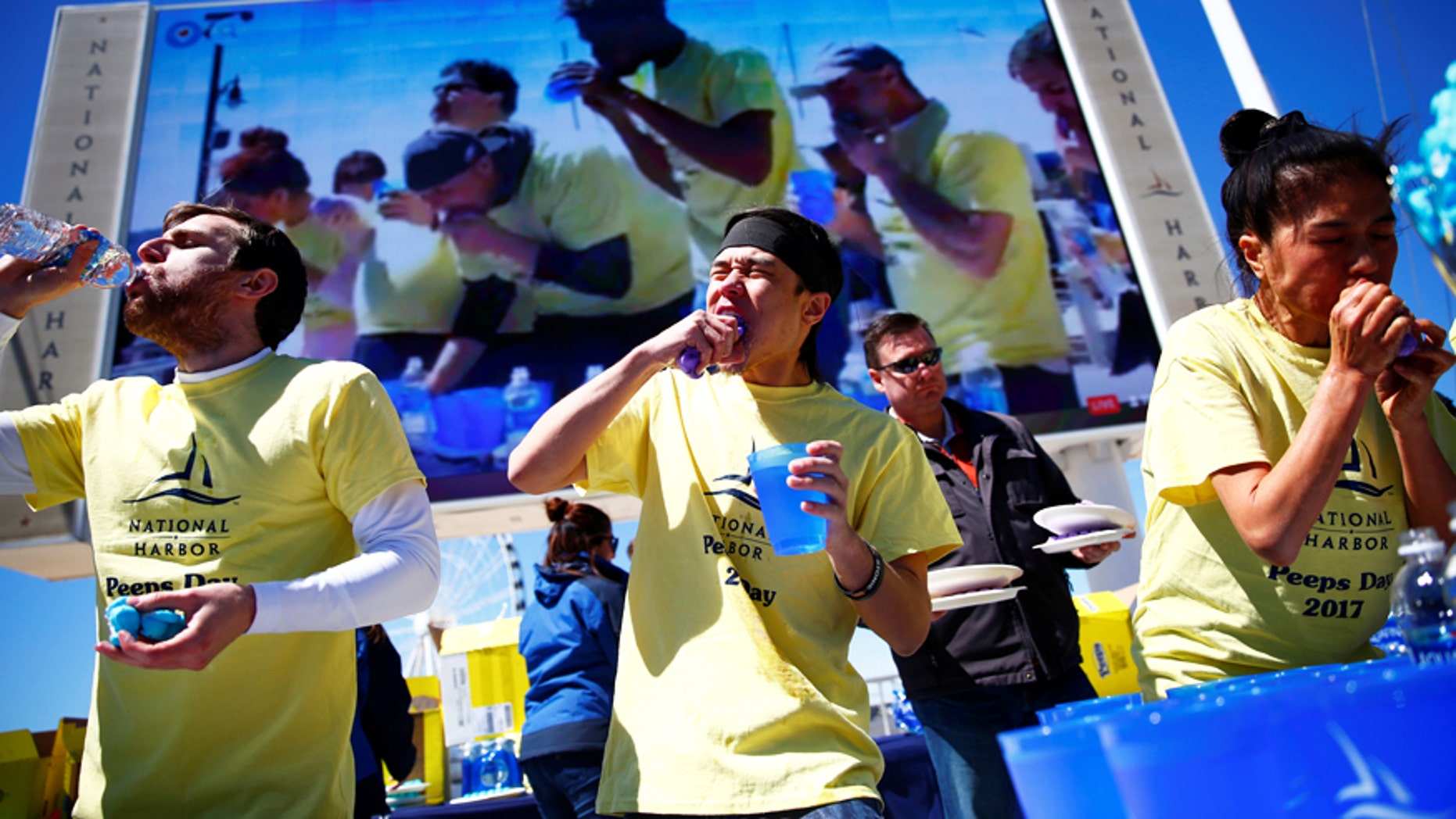 And you thought you loved Easter candy.
On Saturday, competitive eating champion Matt Stonie broke the world record for eating Peeps at the World Peeps Eating Championship in National Harbor, Md., devouring 255 of the sugar-coated marshmallow treats in just five minutes.
Stonie, who hails from San Jose, Calif., shattered the previous record of 200 Peeps in five minutes, which Stonie himself set at the first-annual National Harbor World Peeps Eating Championship last year.
The 24-year-old also earned $1,750 in prize money and a Peeps-filled trophy, reports the San Jose Mercury News.
An additional $1,750 was distributed among the top runners-up, which included Geoffrey Esper of Massachusetts and Carmen Cincotti of New Jersey, who placed second and third, respectively, with Esper stuffing down 238 Peeps and Cincotti consuming 170.
BRIGHT PINK PEEPS-FLAVORED OREOS HAVE AN UNFORTUNATE SIDE EFFECT
Stonie, who goes by the nickname "Megatoad," already holds several other notable designations in the competitive-eating circuit.
According to Major League Eating (MLE), Stonie has, at one time or another, held the world record for most bacon consumed in five minutes (182 strips), most Moon Pies eaten in eight minutes (85) and most birthday cake consumed in eight minutes (14.5 pounds), among several other achievements.
In 2015, Stonie also devoured 62 hot dogs to win the Nathan's Hot Dog Eating Contest in Coney Island, N.Y. The MLE currently ranks him as the second best competitive eater in the world after nine-time Nathan's champion Joey Chestnut.
FOLLOW US ON FACEBOOK FOR MORE FOX LIFESTYLE NEWS
Stonie's latest win, however, comes at an odd time for competitive eating contests. Earlier this month, a man from Denver, Colo., choked to death during a half-pound doughnut eating challenge. And in late March, a college student in Fairfield, Conn., died during her sorority's pancake eating contest.