Chipotle's Tasty Made burger axes 'responsibly raised' beef
Is Chipotle abandoning its long-running "Food with Integrity" slogan?
Tasty Made, Chipotle's fast-casual burger concept which opened its first location in October, has already stopped using "responsibly raised" beef in its patties, reports Nation's Restaurant News.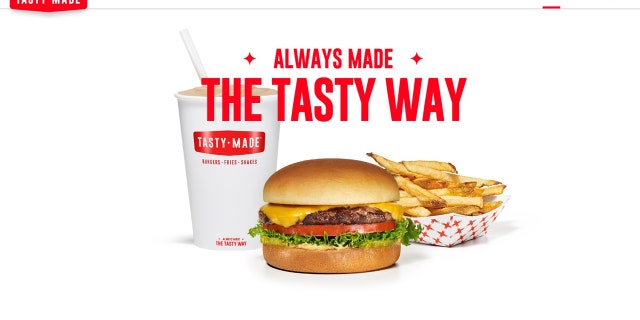 Tasty Made originally pledged to serve the same "food with integrity" as the burrito chain, emphasizing "responsibly raised brand beef (from animals that are raised in more humane ways and without the use of antibiotics or added hormones)."
TASTY BURGER WON'T BACK DOWN FROM LEGAL BATTLE AS CHIPOTLE OPENS FIRST BURGER JOINT
But now, less than two months after opening in Lancaster, Ohio, the chain is backing off its commitment to better beef.
But why? Restaurant industry analyst Mark Kalinowski of Nomura says Tasty Made's burgers were too pricey, so in an attempt to cut costs, the chain has voluntarily elected to use conventional beef. Ironically, that's the same antibiotic and hormone-filled food that Chipotle has railed against in the past. After just a few weeks in business, Tasty Made has received mixed reviews and has just two-and-a-half stars on Yelp.
But the chain is working to deliver lower-priced food faster. Burger prices have dropped significantly since the restaurant's opening, with a double cheeseburger going from over $6 to $4.10 now. And Tasty Made boasts Chipotle group's first drive-thru-- which, according to Kalinowski's report, account's for over 50 percent of the new burger restaurant's business.
The move to create cheaper burgers comes amid another big change for the company-- it has decided to operate with a single chief executive officer.
Amid a push for leadership changes from the company's investors, Chipotle announced that co-CEO Monty Moran will be stepping down from his position effective immediately and will retire completely from the company next year.
Moran, an attorney, was bumped to co-CEO in 2009 alongside founder Steve Ells.
"Given the ongoing challenges facing the company, the board felt strongly that it was best for Steve to resume leadership of the company going forward," the board's lead director, Neil Flanzraich, said in a statement on Dec. 12.
IS CHIPOTLE USING FREE FOOD TO DISTRACT CONSUMERS FROM ITS CORPORATE WOES?
"This will ensure that his high standards for the guest experience and his unyielding commitment to the company's mission are top priorities."
Ells, who founded Chipotle in Denver in 1993, said that "operations have become over-complicated. I'm very much looking forward to relentlessly focusing on ensuring an excellent guest experience, removing unnecessary complexity from our operations, championing innovation, and pursuing our mission of making better food accessible to more people."