Chef Mario Batali allegedly told special events director, 'I want to see you naked'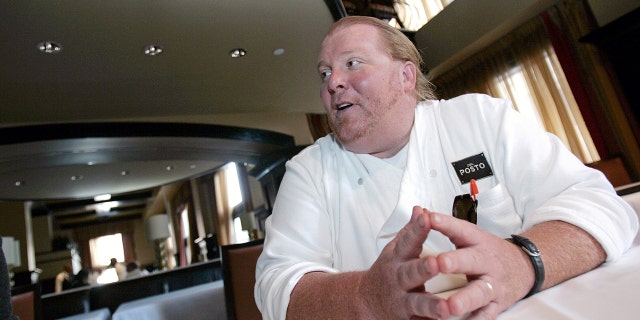 More women have come forward with sexual harassment accusations against famed chef Mario Batali, claiming he made inappropriate comments and physical contant.
Batali was a man known for excess, according to employees and restaurant pals. In March 2010, during the week of the Oscars, that excess was on full display at a Vanity Fair dinner hosted at Batali's Osteria Mozza in Los Angeles and featuring the chef as the main attraction. The event was themed Magic, Martinis and Mario.
Holly Gunderson, the restaurant's special events director was tasked with ensuring that the night went well. However, as she said in a Washington Post article, the job proved tougher than anticipated after a drunken, slurring Batali arrived late.
CELEB-FRIENDLY RESTAURATEUR KEN FRIEDMAN ACCUSED OF SEXUAL HARASSMENT
Gunderson alleged that the chef turned to her as she was escorting him to the rest of the guests and said, "I want to see you naked in my hot tub back in the hotel." She said a few people "looked at me like, 'Oh my God, I can't believe he said that about you,'" the newspaper reported.
Gunderson, uncomfortable, brushed off the comment and tried to keep her distance from the chef and restaurateur for the rest of the night. At one point, however, he found her while she was leaning over a table and, she alleges, groped her.
She said Batali put his hand "between my legs, up and under, so his hand went on my vagina outside of my clothes. And then he moved his hand backward. So, you know, under my butt. And then continued walking."
She was so surprised that she didn't move or address the episode with Batali, but she did confide in a friend later, who confirmed the event with The Post.
"And then he moved his hand backward. So, you know, under my butt. And then continued walking."
During the same night, the associated director of integrated marketing for Vanity Fair, Melanie Altarescu, reportedly dealt with a similar situation with Batali.
Altarescu was given the job of getting the intoxicated chef into his car. When she finally did so, she claims Batali called out to her: "You're gonna get in the car, and we're gonna make out." Altarescu told The Post that when she declined, he grabbed her sleeve from the window and said: "You're making a big mistake. You should get in the car and we should make out."
Altarescu said she managed to free her arm and get away. She told her colleagues and supervisor about the encounter, but did not file a formal complaint at the time.
Outside of the Oscars-party allegations, several people have come forward and complained of Batali's aggressive behavior. Waitresses at other restaurants where the celebrity chef would hang out have also described his inappropriate behavior – which was so well known that he developed a nickname.
FOLLOW US ON FACEBOOK FOR MORE FOX LIFESTYLE NEWS
"We called him the Red Menace," former Spotted Pig server Trish Nelson told The Post. "He tried to touch my breasts and told me that they were beautiful. He wanted to wrestle. As I was serving drinks to his table, he told me I should sit on his friend's face."
Batali has issued a statement, obtained from The Post, since the harassment allegations broke, apologizing for his behavior.
"I apologize profoundly to the people I have mistreated and hurt. The entire day of events surrounding the party I was the personification of idiocy, a drunken and idiotic fool, with no respect for the staff at Osteria Mozza, the guests nor for the restaurant itself. That behavior was horribly wrong, shameful and degrading and there are no excuses. I wish I could have the day back and do it right. I take full responsibility for my deplorable actions and am deeply sorry for any pain, humiliation or anguish I caused."