Bud Light to honor Super Bowl promise, give free beer to Philadelphia
Local law enforcement might not agree, but Bud Light thinks the entire city of Philadelphia needs another beer.
On Sunday night, Bud Light confirmed via Twitter that — yes — they will be honoring their promise to give free beer to the fans in Philly now that the Eagles have "emerged victorious" over the New England Patriots.
JUSTIN TIMBERLAKE'S SUPER BOWL OUTFIT HAS THE INTERNET CONFUSED
"Join us with @LaneJohnson65 and your 21+ friends at taverns along the parade route to raise one of the Kingdom's favorite light lagers," the company tweeted shortly after 10 p.m. EST.
Bud Light originally made its vow to the people of Philly back in August, after Eagles offensive lineman Lane Johnson remarked that he'd be supplying "beer to everybody" in the event that the Eagles win Super Bowl LI. Bud Light soon stepped in to pick up the tab, and the company has been periodically reminding fans of its commitment ever since.
Fast-forward to Sunday night — and the Eagles' first Super Bowl win — and Bud Light is holding up its end of the deal.
"The Eagles have emerged victorious in Super Bowl LII, and we will celebrate with Philadelphia fans in taverns along 'Victory Lane,'" said Bud Light in a statement obtained by Fox News.
"On the day of the parade, we invite all fans 21+ to join us in raising the Kingdom's favorite light lager in celebration of the big win. Look for Bud Light reps at multiple taverns along the parade route where we will buy fans one Bud Light. Congrats, Philadelphia! And please enjoy responsibly! Philly Philly!"
TOM BRADY'S SUPER BOWL COAT HAS PEOPLE LIKENING HIM TO ZOOLANDER, INSPECTOR GADGET
In keeping with the theme of its medieval ad campaign, the company also released a "scroll" that pretty much echoed those sentiments, albeit in faux Middle English.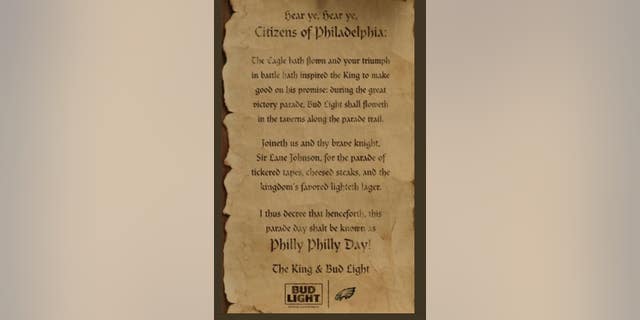 "The Eagle hath flown and your triumph in battle hath inspired the King to make good on his promise: During the great victory parade, Bud Light shall floweth in the taverns along the parade trail," reads the message from "The King and Bud Light."
"Joineth us and thy brave knight, Sir Lane Johnson, for the parade of tickered tapes, cheesed steaks and the kingdom's favored lighteth lager," it continued. "I thus decree that henceforth, this parade day shalt be known as Philly Philly Day!"
FOLLOW US ON FACEBOOK FOR MORE FOX LIFESTYLE NEWS
Philadelphia's WPVI further reported that 25 different bars along Thursday's parade route will be handing out the free Bud Light to revelers.