Brewery making craft beer with white wine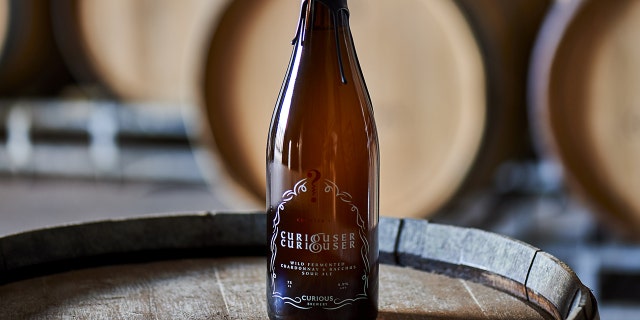 A brewery has created a novel craft beer formula made from wine.
The creation, dubbed Curiouser & Curiouser, forms part of a series of booze collaborations between leading U.K. brewers.
Curious Brewery in Ashford, Kent, forged the formula that allows drinkers to experience a bottled blend of sour ale and chardonnay.
CALIFORNIA RESTAURANT RIDICULED FOR DECONSTRUCTED AVOCADO TOAST BOWL: 'IT'S A SALAD'
Just 1,500 bottles of the limited edition brew are being produced in partnership with The Wild Beer Company.
The first beer in the collection, Curioser & Curiouser Chapter 1, is a unique blend of Wild Fermented Chardonnay and Bacchus Sour Ale.
Its taste consists of acidic sour ale with the flavours of English wine to give aromas of citrus and toasted nuts with a hint of vanilla - and is served in wine bottles.
Head winemaker Josh Donaghay-Spire said: "Our collaboration was formed from a shared belief in exceptional brewing and a mutual passion for imaginative new products.
"The brewing process involved topping barrels of our Chardonnay and Bacchus lees with sour beer from the Wild Beer Company, where it then settled for six months.
"The beer was then blended with the best four of their summer blend and two of their sourdough barrels, resulting in a beer that confounds expectations and will push most beer drinkers out of their comfort zone, which is a good thing once in a while."
Curious Brewery managing director, Gareth Bath, added: "Curiouser & Curiouser is going to offer beer-drinkers something completely new - beer made by leading winemakers and some of the U.K.'s most forward-thinking brewers.
FOLLOW US ON FACEBOOK FOR MORE FOX LIFESTYLE NEWS
"The next beers in the series will be launched throughout 2018, each in partnership with a different brewer and each with a curious winemaking twist."