Boys saddle up for a trip to McDonald's with their pet goat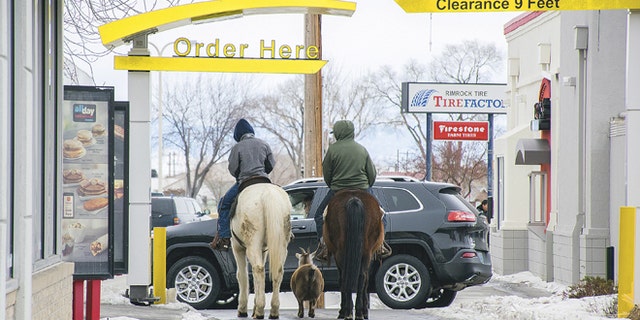 POWELL, Wyo. – Two Wyoming boys, a little bored over their holiday break, saddled up for a trip to McDonald's and a goat followed along: "E-I-E-I ... whoa!"
The 15-year-old Joel Perez and 13-year-old Trajen Collins, rode their horses into the small city of Powell last week. They told the Powell Tribune for a story Wednesday that they didn't plan to take the goat, but apparently it was up for an adventure, too.
NORTH CAROLINA KFC ACCEPTS CUSTOMER'S COUPON FROM 1986
Perez ordered some sandwiches, but nothing for the horses. They said they dismissed the idea of getting a salad for the goat. No word on whether they considered a "kid's meal."
The teens stopped by other stores to get a bowl and water for the animals.
Perez and Collins said they didn't get in trouble with their parents.