10 Tips for Air Drying Your Hair Like a Pro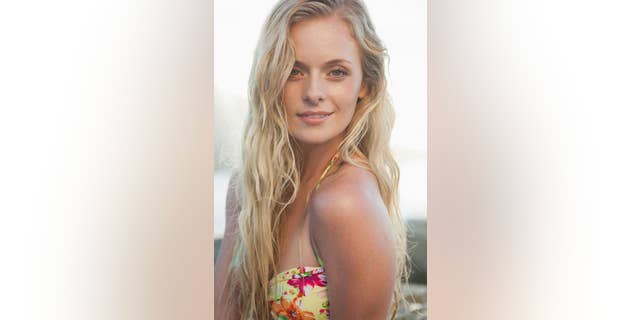 NEWYou can now listen to Fox News articles!
Air drying for soft, touchable tresses? Sounds like a beauty myth — except it's actually possible.
Everyone knows that salon-quality heating products are the biggest secrets behind a smooth blowout or flawless waves, but too much of a good thing is actually bad for you. Excess heat can lead to damage, including breakage and hair loss (ouch!).
Whether you need a break from your styling tools or you're just feeling lazy, air drying is a perfect option for an amazing mane that looks like you spent hours in front of the mirror, except no one needs to know you barely lifted a finger to make magic happen.
We asked several celebrity stylists to give us their major do's and don'ts for air drying. Best of all? They're so simple, anyone can follow with ease:
You'll Always Need Product
We hate to break it to you, but air drying hair for gorgeous tresses doesn't always literally mean, well, air drying alone. Applying products specifically made for your hair type is a must for the maximum effect. Sure, it takes extra work, but it's a lot quicker to apply product than to pull out the blow dryer, curling iron or straighter. "A major don't is not using product," says celebrity stylist "There are very few hair textures that will dry naturally without product and look fabulous. Achieving 'beautiful air-dried hair' takes a little effort. Product is your friend." In addition, Cornwell recommends specific products for different hair types: a volumizing spray if your hair tends to fall flat, and a leave-in conditioner with moisturizing properties if it's naturally dry. He advocates the use of sea-salt based products too, which help create coveted beachy waves from the comfort of home.
Keep Argan Oil (and Dry Shampoo) Nearby
Walk silky smooth tresses? Make argan oil your friend. Apply to damp hair from the mid-lengths to the tips, which better seals the cuticles, tones down frizz, and enhances natural waves. Make sure to keep the application minimal and avoid applying near the roots to avoid a greasy, unwashed look. Another perk of using argan oil? It will keep your mane smelling clean and fresh. Once the hair is dry, you can also apply a spritz of dry shampoo to your roots for extra lift and texture.
Add Texture the Natural Way
"Braiding the hair adds great texture," says Cornwell. "You can sleep in the braid, wake up, remove the braid, shake your hair, and spray with hairspray. Twisting the hair with a product that has some hold will give you a great tousled look, especially on straight hair. For the sexy, just-off-the-beach look, use a volumizing spray on damp hair, scrunch, and let it air dry for beautiful results."
Or Try the Alternative
If you aren't a fan of braids, consider trying a topknot for soft waves and extra lift. After washing your hair, soak up excess water with a paper towel (more on that later) or clean cotton t-shirt. Then, apply your hair product of choice and create a bun right on top of your head. Once your hair is completely dry, unleash your bon and voila! To smoothen your tresses, use a wide-tooth comb, which will detangle more effectively while being gentle on your hair.
Skip the Towel
Using a towel to dry your hair after washing sounds like a no-brainer, right? Except this simple act alone could be the culprit behind your frizz. According to celebrity stylist Chaz Dean, one of the best-kept secrets to a successful air dry is the never using a towel for your hair. "Due to its thick absorbent fibers, rubbing a towel into your hair is actually one of the most common causes of frizz," says Dean. "Instead, opt for a soft cotton t-shirt, pillowcase or microfiber cloth. All of these materials, unlike a thick bath towel, have threads that are finer, and therefore do the least damage to wet hair, which is at its weakest and most fragile state." As an alternative, you can also pat-dry hair with paper towels, which will absorb water without causing frizz.
If You Shower Before Bed
Think twice before hitting the sheets with a soaking mane. Sleeping with wet hair overnight can cause tangles and knots while you catch your ZZZs, leaving your tresses in a unruly mess, prompting breakage. To soften the blow, the lead stylist at SalonCapri Boston, Nicholas Penna Jr., recommends applying a light coating of frizz-easing serum and then loosely braiding the hair, securing it with a cloth-covered elastic to prevent damage. Not only will your hair remain knot-free as it dries, but you'll wake up to bouncy, heat-free waves. However, if your hair is too short to braid, Penna suggests wrapping it in a silk scarf or using a silk pillowcase. Silk causes little friction against the hair shaft, helping it stay frizz and knot-free.
If You Have Short Hair
"Use a leave-in conditioner to add some shine, then comb it in the direction you want it to go and let it dry naturally without touching," says New York City-based celebrity stylists Nunzio Saviano.
If You Have Long, Straight Hair
"Put your hair in four braids, one each side and two in the back," explains Saviano. "Let it dry naturally, and when you take the braids out, finger comb through [for] some loose waves."
If You Have Wavy/Curly Hair
"Use a curling cream and then take a one-inch section of your hair and wrap the curl around your finger from bottom up, sealing the flyaways into the curl and letting your hair dry naturally," says Saviano. For big, bouncy curls, roll your hair underneath (instead of up and over) using Velcro rollers and let hair dry on its own.
If Your Hair is Extra Fine and Thin
Stylists recommend using mousse, as this will create more body than creams and oils, which only weigh your hair down. After washing, simply applying a tiny pump's worth, and scrunch upwards with your fingers. For extra waves, create a braid and let it dry overnight.