Zoe Saldana Transforms into Nina Simone on Biopic Set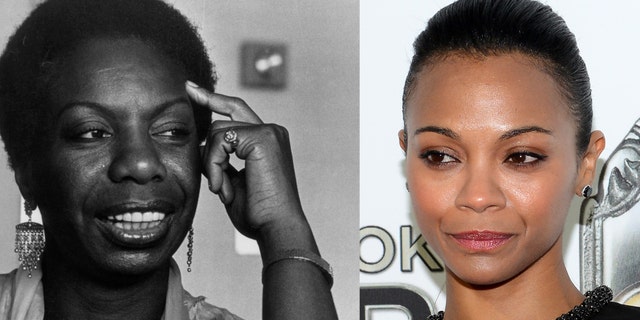 Zoe Saldana is not backing down from playing famous soul singer Nina Simone, despite the online petition signed by an organization urging her to drop the role.
US Weekly magazine has published a photo of Saldana in full Simone character on what appears to be the set of the biopic in the works titled "Nina" in Los Angeles, Calif.
The Dominican-Puerto Rican actress is seen donning an afro wig, fake teeth and facial prosthetics.
SEE PICTURE OF ZOE SALDANA AS NINA SIMONE
Last month, Saldana got criticized for being too light to portray Simone since the legendary singer had much darker skin color.
Tiffani Jones, who runs a blog called Coffee Rhetoric, and had a blog post titled "(Mis)Casting Call: The Erasure of Nina Simone's Image," told The New York Times Nina Simone is not being portrayed truthfully.
"Hollywood and the media have a tendency to whitewash and lightwash a lot of stories, particularly when black actresses are concerned," Jones told The New York Times. "When is it going to be O.K. to not be the delicate looking ideal of what the media considers blackness to be?"
An online petition on Change.org urged the producers and writers of the film to reconsider having Saldana as the leading actress. The petition gathered over 2,600 supporters.
Simone's daughter has said the biopic has not been authorized by the Simone family.
Kelly added that despite being a Saldana fan, she thinks actresses like Viola Davis or Kimberly Elise would have been better choices. This comes after R&B singer Mary J. Blige was linked to the project but was reportedly removed from as a prospect due to "scheduling issues," the Times said.
Kelly also stated her mother's wish would have been for veteran actress Whoopi Goldberg to play her.
Follow us on twitter.com/foxnewslatino
Like us at facebook.com/foxnewslatino