'Young Sheldon' Episode 7 recap: Sheldon takes a back seat to Cooper family drama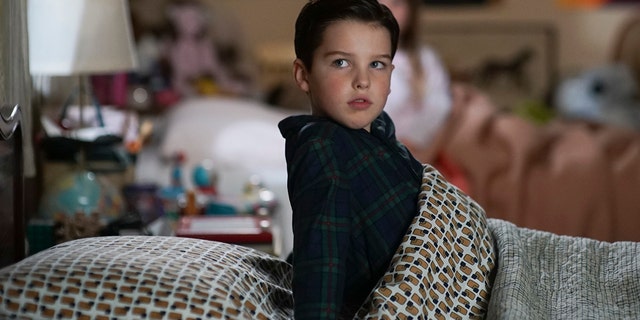 NEWYou can now listen to Fox News articles!
In episode 7 of CBS' "Young Sheldon" the show took a break from its title character to focus on the Cooper family. When Sheldon's dad and his grandmother butt heads, the kids worry that the falling out will lead to their parents divorcing.
The episode opens with the family's mouth watering over Meemaw's famous brisket, which many have called the best in Texas. George Sr. has been trying to get the recipe for years, but she refuses to give it up to anyone. During dinner, she tricks him into believing she'll write it down for him... twice.
While it feels like a trivial family moment, later that night George Sr. complains that Meemaw has never been nice to him, and that his wife always siding with her mother doesn't help. The next day, he opts to stay home from a family trip to the church picnic. While he's got some time to himself, he makes a trip to Meemaw's house in an attempt to steal the brisket recipe. Unfortunately for him, she'd never write it down, and she can tell when her recipe list has been tampered with.
The next day, after he's had a fight with his wife about missing time with the family at the picnic, Meemaw gives him the recipe saying that she doesn't want it to stand in the way of the family being together. However, the recipe is pretty convoluted - almost too convoluted to be real. A trip to New Orleans for the world-famous Cafe Du Monde coffee and a 14-hour cook time later, George Sr. discovers that she tricked him a third time as punishment for the break-in.
Visibly upset, he bursts into the house to yell at Meemaw in front of everyone. That's when the kids notice that the situation is more dire than they thought. George Jr. asks Sheldon to help get the recipe into their father's hands, thinking that will solve the issue. That's when Sheldon leans on his photographic memory to recall a time when Meemaw gave him the recipe while he was just a baby. One can't blame her, she had no clue what kind of brain she was dealing with at the time.
He calls the family into the living room where he reveals that he can give away the recipe. Meemaw protests, prompting George Sr. to say he doesn't want it anymore. That's when things get real.
It comes out that Meemaw never thought George Sr. was good enough for her daughter, what with his motorcycle and apparently unplanned pregnancy. George seems like he's going to get mad, but then softens. He recognizes that he'd feel the same way if someone like that came sniffing around his daughter. However, he notes that he's come a long way since those days.
That's when Meemaw softens as well and apologizes.
"That means more to me than any recipe," he says, but it's quickly revealed that he asked Sheldon for the recipe immediately after she left.
Just like that, the family was all back together. This time with two brisket chefs.