WWE stars The Miz and Maryse open up about being 'role model' parents and how their lives have changed
WWE stars and long-time couple The Miz and Maryse have opened up about how parenthood has changed their lives following the birth of their baby girl, Monroe.
On Monday night, the new parents talked to Fox News about the ups and downs of parenting while on the pink carpet at the 2018 MTV Video Music Awards in New York City. While the pair admitted that the birth of their daughter may have forced the busy couple to slow down, one thing the new baby hasn't affected is Maryse's famous figure.
"Physically, obviously it did nothing to her," the wrestler said while gesturing to his wife who rocked a sparkling, velvet mini dress accessorized with glimmering, diamond earrings on the VMAs' carpet.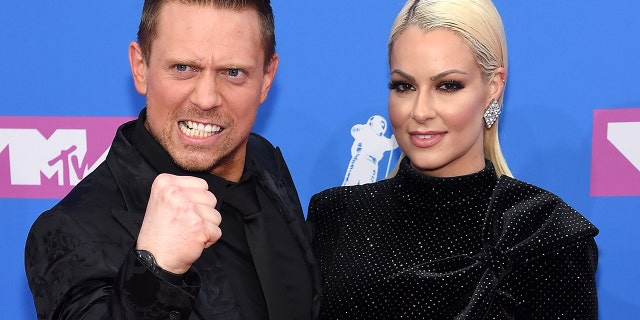 Maryse humbly thanked her husband for his compliment before saying that her post-baby body was "a work in progress."
But post-baby body or not, the 35-year-old gushed about her daughter and becoming a mother.
"She's my heart, she's everything. I mean just being here, it's date night, but I'm like 'OK we gotta go, she's at the hotel," she explained.
The Miz, cut in and said, "Sometimes I wish she would let us sleep, just a little bit."
"I can't believe four hours of sleep is good and that we're Ok," Maryse added.
The 37-year-old wrestler, who recently defeated newly returned Daniel Bryan in the annual WWE Summer Slam match, also chimed in about his new life as a father, sharing some of his favorite moments.
"My favorite times is when everyone is sleeping and [Monroe] wakes up and I just have her in my arms and she just stares at me – she knows that I'm dad," he said.
"And she talks a lot already, I wonder where she gets that from," Maryse joked.
The new mom, who is originally from Quebec, also revealed that she is working on teaching her daughter French, to which The Miz admitted he still speaks none of.
"I've been working on it," he said. "I've been working on it since we've been together- for like a decade."
The couple, whose lives outside of the WWE wrestling ring were documented on the hit reality series "Total Divas," now has a new show of their own. The new parent's lives are chronicled on the USA series, "Miz and Mrs."
Maryse shared how their new show differed from what fans saw on the E! series, which is centered around the women of the WWE.
"I just really enjoy filming 'Miz and Mrs.,'" she said. "Tomorrow night we get to see our move from Los Angeles to Austin – I move with my two cats, two dogs, my mother, Monroe, my husband and we have 24 hours to do it."
"It's the road trip from hell," Miz confessed but joked that the most frustrating part of their road trip move wasn't riding with a baby, it was their two cats. And compared to the band of animals the brought with them, their baby girl was perfect. "Monroe is a pretty easy baby, to be honest."
The couple then reflected on the breakup of another fan-favorite WWE couple, John Cena and Nikki Bella, who split after eight years together in July.
"You always wish the best for everyone," The Miz said. "You hope that John is good, you hope that Nikki is good – you hope everyone is good. We try to generate positivity with everything we do."
He then added that while other couples may have their issues, he and his wife were doing just fine.
"We hope everyone is doing great –we're doing great, and if you need examples, we'll be your role models."
"Miz and Mrs." airs on Tuesday nights on USA.