Will Hollywood's support of Hillary Clinton help her possible presidential campaign?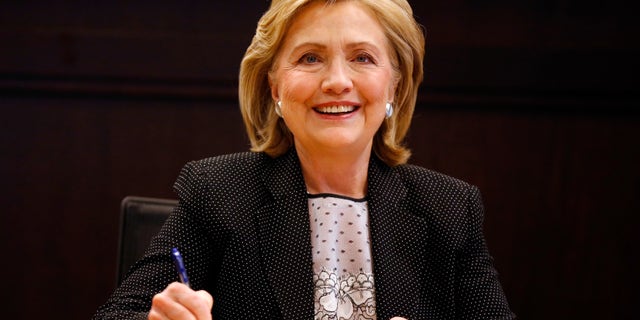 LOS ANGELES – As speculation grows that Hillary Clinton will run for president in 2016, many in Hollywood have been busy handing out awards and honors to show her their support, but experts are split on how the attention will affect her possible presidential campaign.
Last week, Hillary Clinton hit Los Angeles for just one day to promote her new book "Hard Choices" at Barnes & Noble, and the opportunity to praise her while she was in Hollywood wasn't wasted. The former Secretary of State received the William O. Douglas Award from Public Counsel, a law firm that provides legal services for those in need. It was by no means Clinton's first Hollywood accolade.
In 2013 alone, after leaving the State Department in February, Clinton received an astounding 19 awards for a range of causes including human rights, women's rights, community service, improving global nutrition and being an advocate for international freedom. Several of these decorations came from the entertainment and L.A communities. Clinton accepted the inaugural Warren Christopher Public Service Award from the Pacific Council in International Policy for her public service at a Beverly Hills gala last May, and received the Michael Kors Award in July for Outstanding Community Service, presented by the famous fashion designer and Vogue editor-in-chief Anna Wintour.
Some media critics say the West Coast's attention could end up doing more harm than good, should she decide to run in the next election.
"American voters aren't moved by academic awards and oodles of attention from Hollywood. It may help her a little with people who already like her, and hinder her a little with people who already detest her," Matthew Vadum, senior editor at the Capital Research Center, told FOX411. "These [organizations] are trying to ingratiate themselves with her in advance of the next Clinton administration. She has been swooned over and lavished with undeserved praise for decades."
But in both 2008 and 2012, many questioned whether Obama's "celebrity" status, slew of prominent Hollywood supporters and all the Beverly Hills high-priced fundraisers would frame him as being "out-of-touch" with average American. While clearly it didn't stop him from being elected, Clinton is already facing the same speculation.
"There could be a downside if the current narrative that Mrs. Clinton has lost touch with the working people of this country has traction," Washington D.C-based attorney, Margaret Cone.
According to Dan Gainor, vice president of business and culture at the Media Research Center, giving awards is another way Hollywood shows its early support for the possible Clinton campaign, and it does provide something of an advantage.
"It lets them open their heart to her and treat her like she's truly one of their own," he said "Appearances and awards are both designed to boost her political prospects."
Gene Grabowski, senior strategist at Levick Strategic Communications, agreed that while all the accolades groups continue to give Hillary don't help her image much among the general public, they do help her cement relationships with the groups and institutions that provide them.
The Washington Post referred to the awards wave as Clinton's "pre-campaign" for the top job in office, allowing her to talk about a vast array of issues on her own terms, thus staying away from political controversies. Other critics have suggested that the avalanche of endowments over the past 18 months are calculated moves on behalf of the honoring organizations to have Clinton attend, while avoiding the hefty speaking fees that come with having her address audiences. The former Secretary of State is said to receive around $225,000 for delivering a speech.
Although some media critics have been quick to condemn the entertainment world's celebration of the potential presidential candidate, others insist that ultimately what matters is the big picture.
"Whether these ceremonies provide her with a 'free media' pass is irrelevant," concluded Cone. "We are facing the midterm elections this November. The minute she announces her candidacy, the media will put her to the test."
Follow @holliesmckay on Twitter