Why 'SNL' didn't want Rosie O'Donnell to play Steve Bannon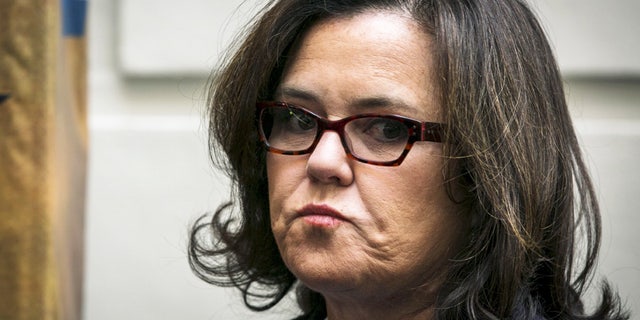 Leslie Jones finally revealed why "Saturday Night Live" never accepted Rosie O'Donnell's offer to embody Steven Bannon.
The 49-year-old cast member told The Hollywood Reporter that she reached out to executive producer Lorne Michaels about the potential role and was given a candid answer.
ROSIE O'DONNELL TRANSFORM INTO STEVE BANNON IN NEW TWITTER PIC
"I asked Lorne, 'How come y'all aren't bringing Rosie O'Donnell in [to play Bannon, per her plea on Twitter] or any of them to do it?' And he was like, 'When you're playing a character, you can't play it from hate. You have to play it from funny, because when you play it from hate, it looks like you're just mean,'" explained the comedienne. "I love Rosie to death, but he might have been right on that one."
Producer Lindsay Shookus also told the publication that they've received numerous offers from other celebrities willing to take on the White House Senior Advisor, as well as other members of President Trump's Cabinet.
"We've gotten a lot of pitches from people, big people, like 'I can play this person on the Cabinet, or I can play this person,'" she explained. "It's in the vein of Melissa [McCarthy] and Alec [Baldwin] and Larry David, and it's never happened before. We got a lot of Kellyanne and [Steve] Bannon pitches. But the casting has to make sense. You don't want to make a splash to make a splash. That's not what we do."
ALEC BALDWIN LOOKING TO TAKE TRUMP IMPRESSION BEYOND 'SNL'
Earlier this year, O'Donnell declared she'd liked to play Bannon on the late night TV show and she changed her Twitter profile picture to make herself look like him.
The 54-year-old comedienne's offer to play the chief strategist came after McCarthy's debut as White House Press Secretary Sean Spicer.
O'Donnell and Trump have publicly feuded in the past, with Trump making comments concerning her looks and weight. O'Donnell has since made it clear on social media that she's ready to parody Bannon for a future episode of the NBC sketch series.
"Available — if called I will serve," the actress tweeted.