Who wore it best, Jana Kramer or Taylor Swift?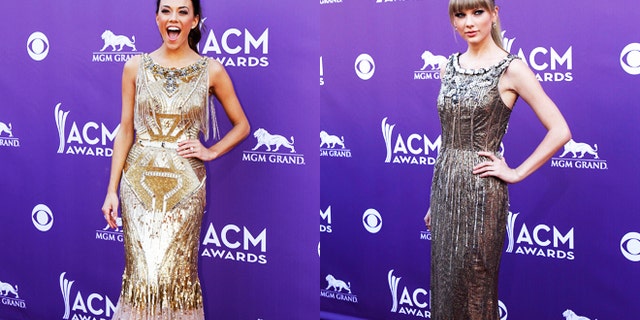 A 23-year-old country music superstar and a 29-year-old newcomer went womano y womano at the American Country Music Awards on Sunday night.
Taylor Swift wore a gold beaded Dolce & Gabbana get-up on the red carpet that got her more attention than the awards show did (Swift got shut out).She paired the dress with Jimmy Choo shoes and Norman Silverman earrings.
But she and Newcomer of the Year nominee Jana Kramer should have compared notes beforehand, as Kramer wore a very similar style for her initial strut down the ACM aisle. Kramer's dress was by designers Badgley Mischka and she also wore Norman Silverman earrings
So who do you think won the battle of the shiny gold dresses?